Printed Materials
The printed materials group research is focused on the formulation of functional inks, optimized and novel printing processes, as well as thin film device fabrication and integration.

Printing has evolved from simple image reproduction into a vastly applied technique for material application throughout all industial processes. Our group focusses on the development of new materials, ink compositions, and process optimization for production of electronic components and circuits.
Going beyond single component processes, we also analyze and optimize complex printed logics to allow full device integration.
Our expertise lies with printing in the micro- to nano-scale, thin film devices, inorganic semiconductors, and printed conductive materials. We strive to develop low-temperature processes on flexible substrates by rethinking each step from ink formation to circuit design.
Prof. Dr. Jasmin Aghassi
Research Group Leader
Managing Director NanoMat
+49 721 608-28318
jasmin aghassiMib4∂kit edu
Group: Low Power Electronics with Advanced Materials
Current Research Projects
Printing technology has proven to be a very complex topic. The properties of a final device are not only governed by the materials themselves, but also heavily influenced by processing steps, layouts, applied printing technique, and environmental conditions. In general we subdivide our reseach efforts into three categories: materials, processes and technology, and devices and circuits.
The Materials activity focuses on the development of ink systems using precursors or nanoparticles for providing the desired material post-printing. Each material is directly tested on simple systems like single field-effect transitors (FETs), resistors or conductive lines before being transferred for application to cooperating groups. With the feedback from these partnerships, our materials are constantly improved and adapted to the end use.
Targeted applications and investigated systems include:
(semi-) conductors
dielectrics & electrolytes
energy storage materials
porous structuring
self-jellifying ionic gels
low-temperature annealing
Processes and Technology
The Processes and Technology part of the Printed Materials activity focuses on the development of printing technologies, and on the adjustment of inks to the respective printing processes or vice versa. This includes adding non-printing technology to increase the range of potential applications.
In a close cooperation with PD Dr. Dr. Michael Hirtz, dip-pen nanolithography is used for nano-sized features.
Among others, we apply:
ink-jet printing
microplotting
dip-pen nanolithography
atomic layer deposition
ablation lasering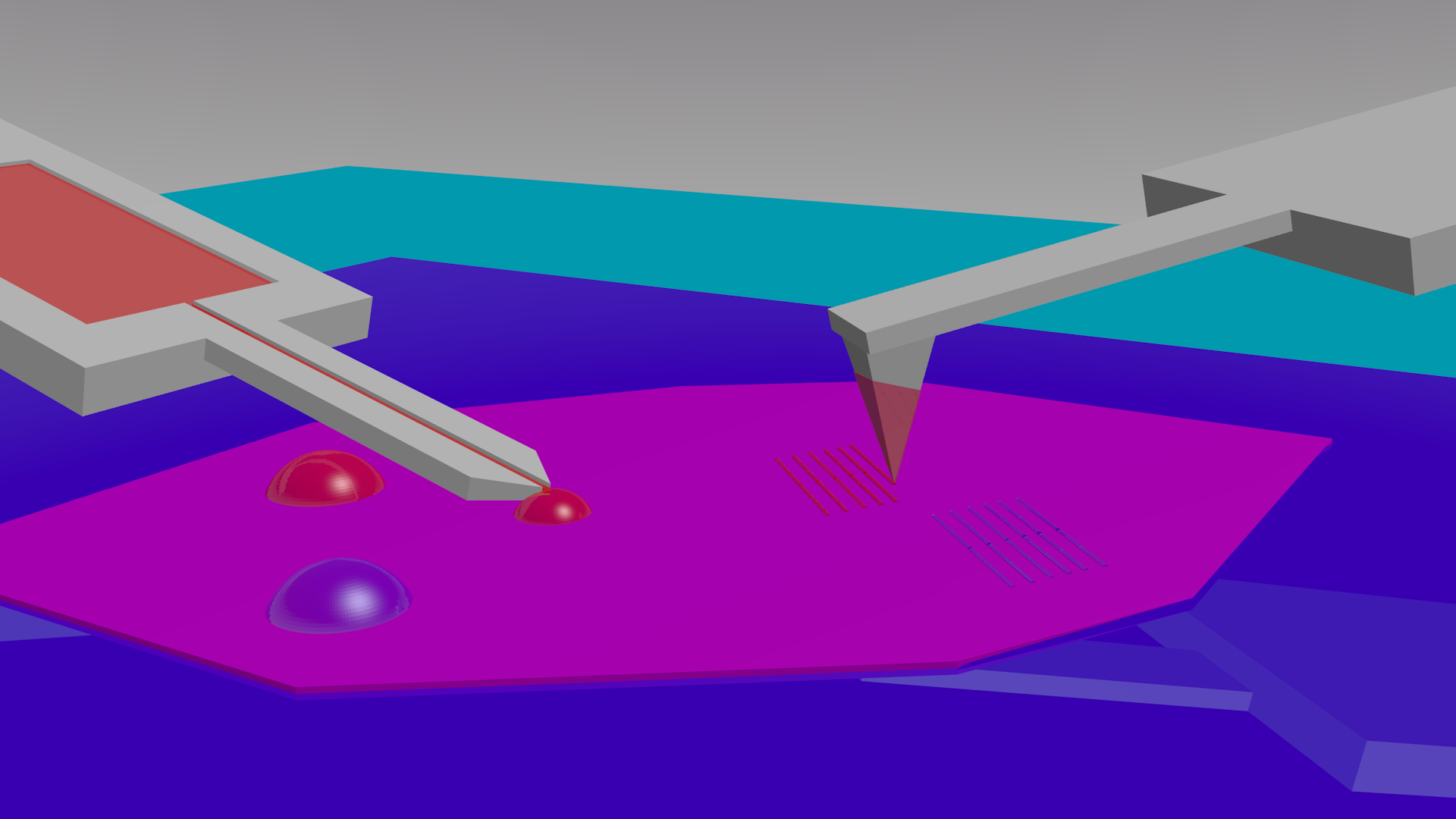 Once materials and processes are established, this activity focuses on the design, production, and analysis of more complex printed electronics. Providing a constant feedback loop, both materials and processes are optimized using the experiences made here.
Major topics include:
system-on-a-chip devices (SoCs)
hybrid electronic systems for the internet of things (IoT)
printed security circuits with unclonable properties
sensors
creating circuit desing kits for printing technology