Welcome to Prof. Mayor's research unit at INT
Welcome to the website of Prof. Mayor's Research Unit focused on the synthetic chemistry.
The research unit of prof. Marcel Mayor belongs to the pioneer research groups of the Institute of Nanotechnology (INT) founded in 1998 at the former Forschungszentrum Karlsruhe, now Karlsruhe Institute of Technology (KIT). The research activities are still dedicated to the synthesis of tailor-made functional molecules for the investigation and the use of their physical and physico-chemical properties. The strong interdisciplinary environment at INT is highly convenient for such research topics as a broad range of areas are present in-house, giving rise to prolific internal collaborations. Our unit is involved in several research topics within the INT including Carbon-Based Nanostructures, Functional Molecules and Molecular Electronics

Group picture, Institute for Nanotechnology, September 2013.
From left to right: Dr. Fabien Lemasson, Dr. Alfred Blaszczyk, Marcin Lindner, Andreas Przybilla, Dr. Michal Valasek, Prof. Dr. Marcel Mayor.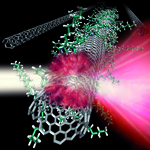 Pyridine-containing
copolymer does the job! and enables easy and efficient sorting of large diameter semiconducting SWNTs.

Learn more...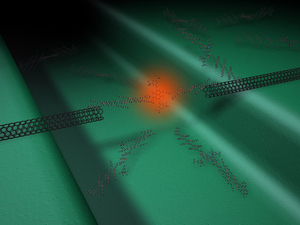 Electroluminescence
from a single SWNT-molecule-SWNT junction
Learn more...