News and Publications
This page contains joint publications from the Energy Storage Systems research unit (INT) and Solid State Chemistry (HIU) - the two parts of the Fichtner activities.
NEWS
- Dr. Christian Baur, is awarded by the "Ulmer Doktorandenpreis", as best graduate of the Faculty for Natural Sciences in 2020. His thesis was on disordered rocksalt materials for electrochemical energy storage.
- Our paper "Copper Porphyrin as a Stable Cathode for High Performance Rechargeable Potassium Organic Batteries" has been chosen as Very Important Paper by ChemSusChem.
- Our paper "Phase evolution in calcium molybdate nanoparticles as a function of synthesis temperature and its electrochemical effect on energy storage" is one of the most popular articles published in Nanoscale Advances so far, see Link.
- The group initiated a proposal for an Excellence Cluster on "Energy Storage Beyond Lithium" in the last round of the German "Excellence Strategy" of the German Research Foundation (DFG). The Cluster is a joint effort of Ulm University and KIT, with ZSW and Uni Giessen as further beneficiaries. The proposal involves 25 PIs from these institution and was granted as the only battery proposal in this round in Germany. Maximilian Fichtner is spokesperson of the Cluster, together with two colleagues from Uni Ulm and KIT. The Cluster started in January 2019, the funding period is 7 years.
- Dr. Ulrich Ulmer was awarded with the 2017 award from the Peter and Luise Hager Foundation for the best thesis in the field of Chemical Engineering at KIT. Thesis title: "The effect of impurities on performance and cost of V-Fe-Cr-Ti based solid solution alloys"
- Our paper "Small Ti clusters for catalysis of hydrogen exchange in NaAlH4" from 2003 in Nanotechnology has recently been awarded as one of the TOP 25 papers of the journal of the past 25 years, see also page at IOP .
- Our "NANOHy" project has been featured by HORIZON 2020 - THe EU Framework Programme for Research and Innovation
- A proposal led by the Fichtner group and NANOMAT has been granted in the highly competitive round of the recent European Future and Emerging Technologies (FET) Open Call on "Novel ideas for radically new technologies". Out of 822 proposals submitted the third and final cut-off of the H2020-FETOPEN-2014/2015 call 13 have been retained to prepare for grant agreements. The submitted proposal ("LiRichFCC") outlines research on a new cathode material based on a new storage principle, as a result of which energy storage densities can be increased beyond those of systems known so far.
Books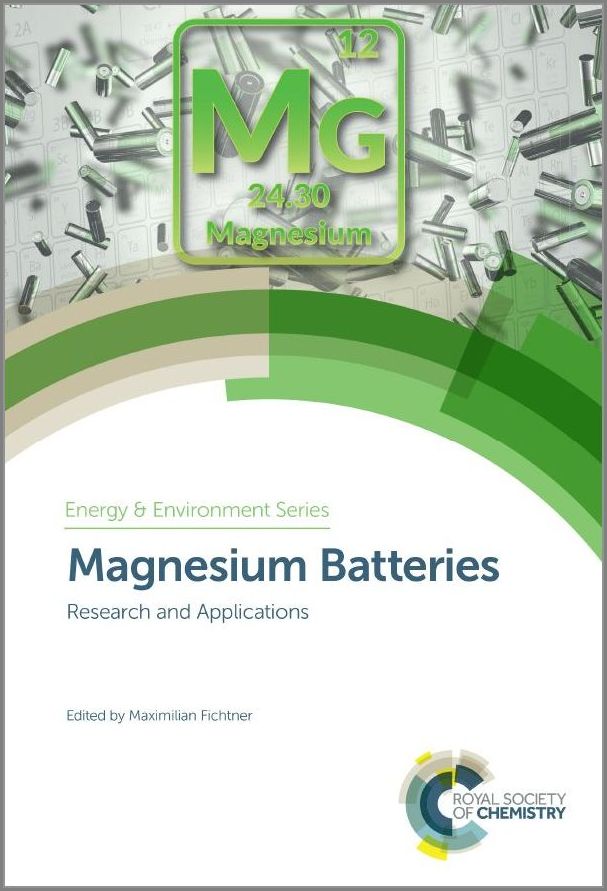 Magnesium Batteries - Research and Applications
Maximilian Fichtner (ed.)
Royal Society of Chemistry (RSC), Cambridge, UK
ISBN: 978-1-78801-434-2

Book Chapters:
Non-aqueous electrolytes for Mg batteries
Solid-State Magnesium-Ion Conductors
Theoretical modelling of multivalent ions in inorganic hosts
Anode materials for rechargeable Mg-ion batteries
Electrochemical properties of magnesium metal and intermetallic anodes
Insertion Electrodes for Magnesium Batteries: Intercalation and Conversion
High voltage cathodes
Organic compounds as electrodes for rechargeable Mg batteries
Magnesium-sulfur batteries
Mg-Li Dual-Ion Batteries
Aqueous Mg batteries
Life cycle analysis of magnesium-sulfur battery


Materials for sustainable energy production, storage, and conversion
Thematic Series
Beilstein Journal of Nanotechnology, issue 5-6, 2015
Maximilian Fichtner (Ed.)

8 selected papers on
- Electrochemical Storage (Mg, Na, Li)
- Fuel cells (liquid, HT-PEM)
- Harvesting of light (perovskites)
- Multiscale Modelling
- Thermal Energy Storage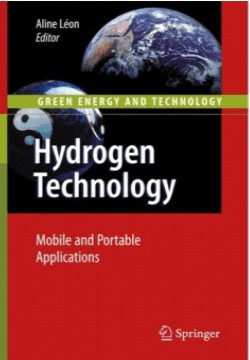 Mobile and Portable Applications
Series: Green Energy and Technology
Léon, Aline (Ed.)
2008, XVI, 688 p. 322 illus., Hardcover
ISBN: 978-3-540-79027-3

About this book
This book presents the current state of the hydrogen economy with the focus on applications in the automotive technology and industry - Where are we in the implementation of hydrogen economy? What are the perspectives? Which are the directions to develop this field? This book answers these questions by compiling reviews from internationally recognized researchers on the following subjects:
- Hydrogen cycle
- State of the art of mobile applications
- State of the art of portable applications
- Advanced tools for the development of new materials
- Perspectives

Book Chapters
M. Fichtner, Preface, in M.Fichtner (ed.) "Magnesium Batteries: Research and Applications" , 2019, RSC Publishing Cambridge, ISBN:

978-1-78801-434-2

M. Fichtner, Motivation for a Magnesium Battery, in M.Fichtner (ed.) "Magnesium Batteries: Research and Applications" , 2019, RSC Publishing Cambridge, ISBN:

978-1-78801-434-2

M. Anji Reddy and M. Fichtner, Ionic Conductivity of Nanocrystalline Metal Fluorides in Alain Tressaud, Kenneth Poeppelmeier (ed.), 'Photonic & Electronic Properties of Fluoride Materials', 2016, Elsevier Publishing, ISBN: 978-0-12-801639-8.
M. Anji Reddy and M. Fichtner, Fluoride Ion Conductors, in Nancy J. Dudney, William C. West, Jagjit Nanda (ed.)Handbook of Solid State Batteries (2nd Edn), World Scientific, New Jersey, 2015, ISBN: 978-981-4651-89-9
M. Anji Reddy and M. Fichtner, Fluoride Cathodes for Secondary Batteries in: Tsuyoshi Nakajima, Henri Groult (ed.), Advanced Fluoride-Based Materials for Energy Conversion, 2015, Elsevier, Amsterdam, ISBN: 978-0-12-800679-5
M. Fichtner, Conversion Materials for Electrochemical Energy Storage, in S.R.S. Prabaharan, M. Siluvai Michael [ed.] Nanotechnology in Advanced Electrochemical Power Sources, Pan Stanford Publishing Pte Ltd., 2014, ISBN

9789814241434

M. Fichtner, The Hydrogen Economy / Chapter 5: Fundamental Properties, M. Ball and M. Wietschel (ed.), Cambridge University Press (2009), ISBN-13: 9780521882163
M. Fichtner, The Hydrogen Economy / Chapter 11: Hydrogen Storage, M. Ball and M. Wietschel (ed.), Cambridge University Press (2009), ISBN-13: 9780521882163
M. Fichtner, Scientific scope. Leon, A.; [ed.] Hydrogen Technology : Mobile and Portable Applications Berlin [etc.] : Springer, 2008 S.625-35 (Green Energy and Technology) ISBN 978-3-540-79027-3
M. Fichtner, Nanoscale Materials For Hydrogen Storage in Nanostructured Materials, G. Wilde (ed.), Elsevier (2008) ISBN-13: 978-0-08-044965-4

M Minakshi, P. A. Schneider, and M. Fichtner,

Biowaste eggshells as efficient electrodes for energy storage, in Valorization of Agri-Food Wastes and By-Products: Recent Trends, Innovations, and Sustainability Challenges, (R. Bhat, ed.) Elsevier Sciences (2021) ISBN 9780128240441
Covers and Backcovers

June 2005, Vol.7, No 6 February 2007, Vol. 46, No. 4 September 2007, Vol. 17, No. 3

February 2010, Vol. 20, No. 10 November 2011, Vol. 21, No. 43 May 2012, Vol. 2, No. 5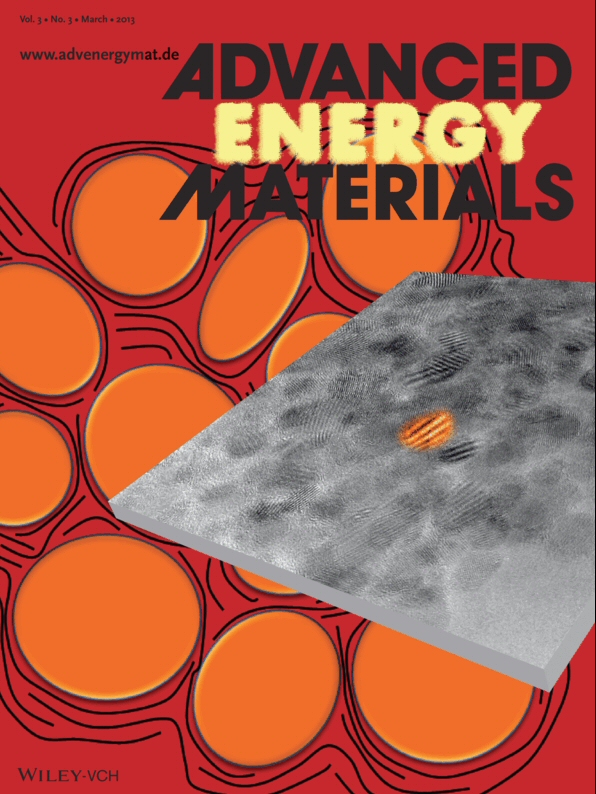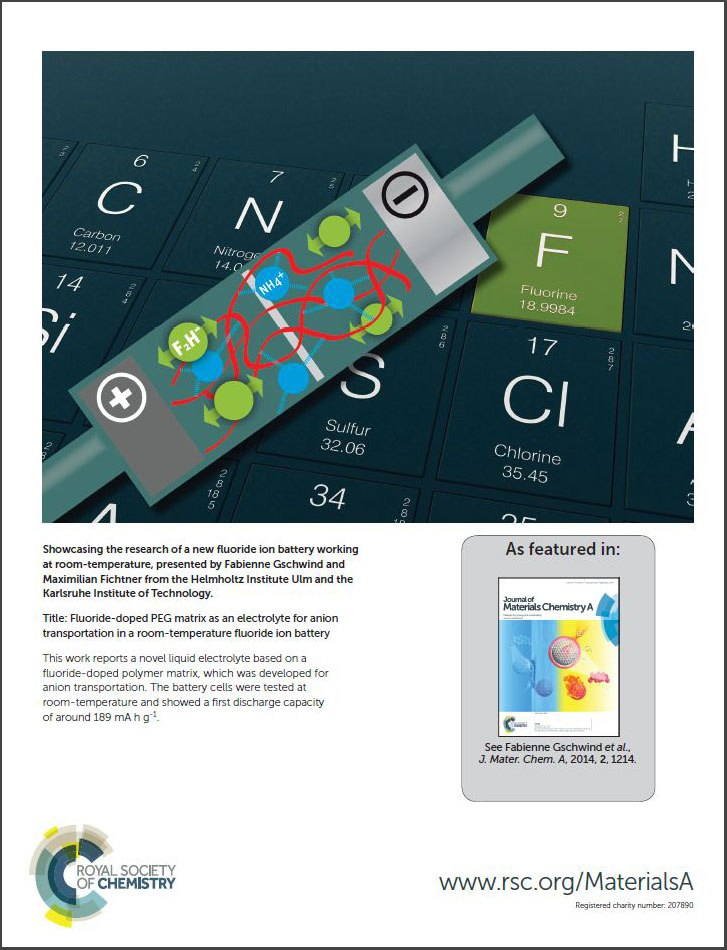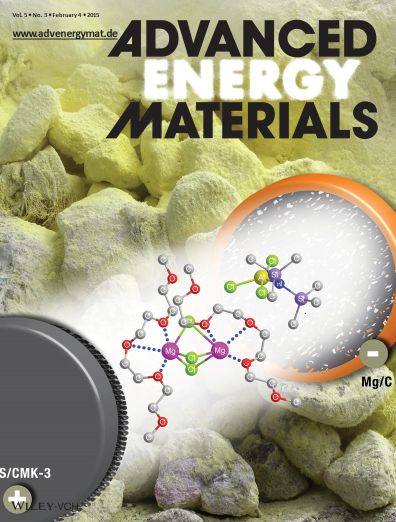 March 2013, Vol. 3, No. 3 January 2014, Vol. 2 January 2015, Vol. 5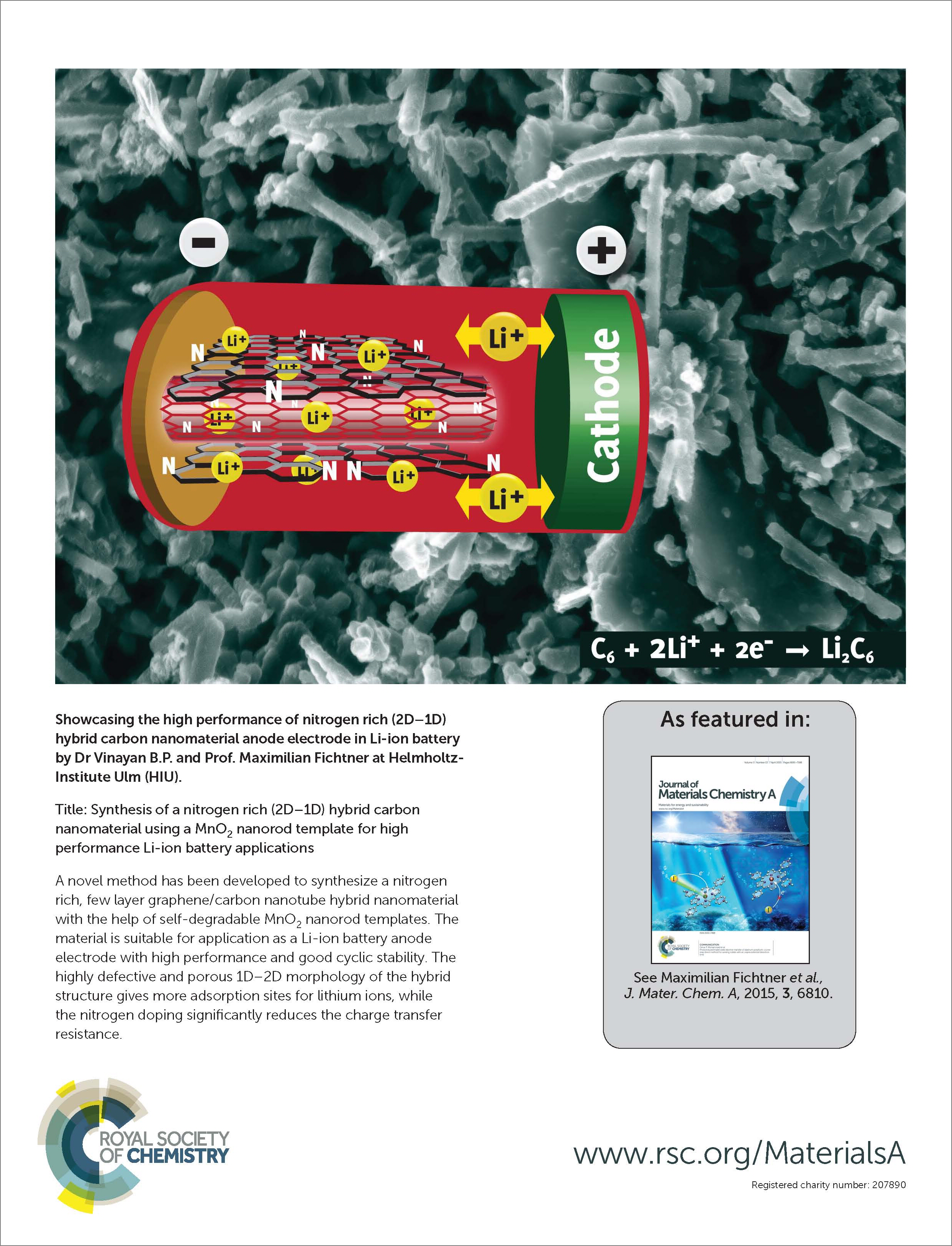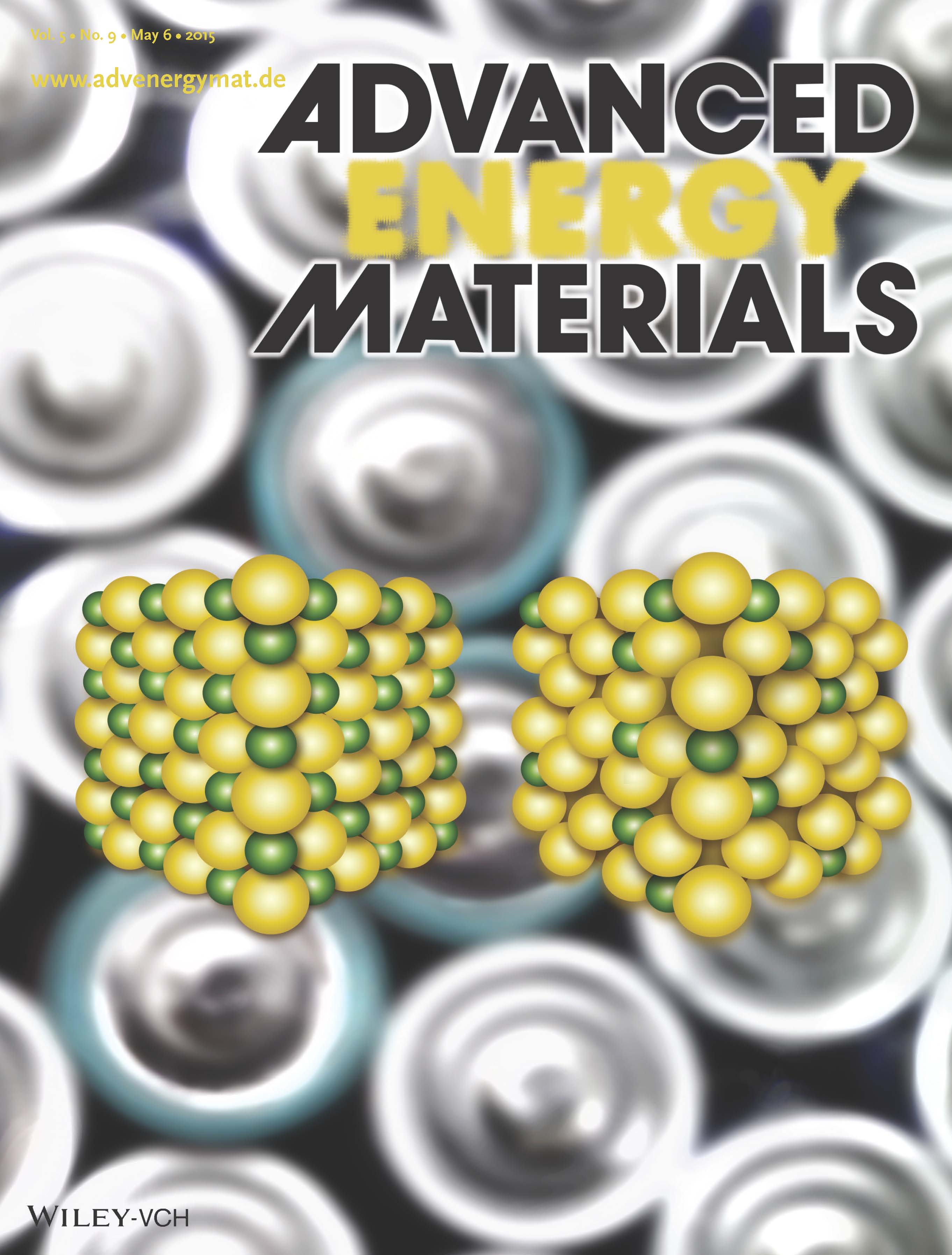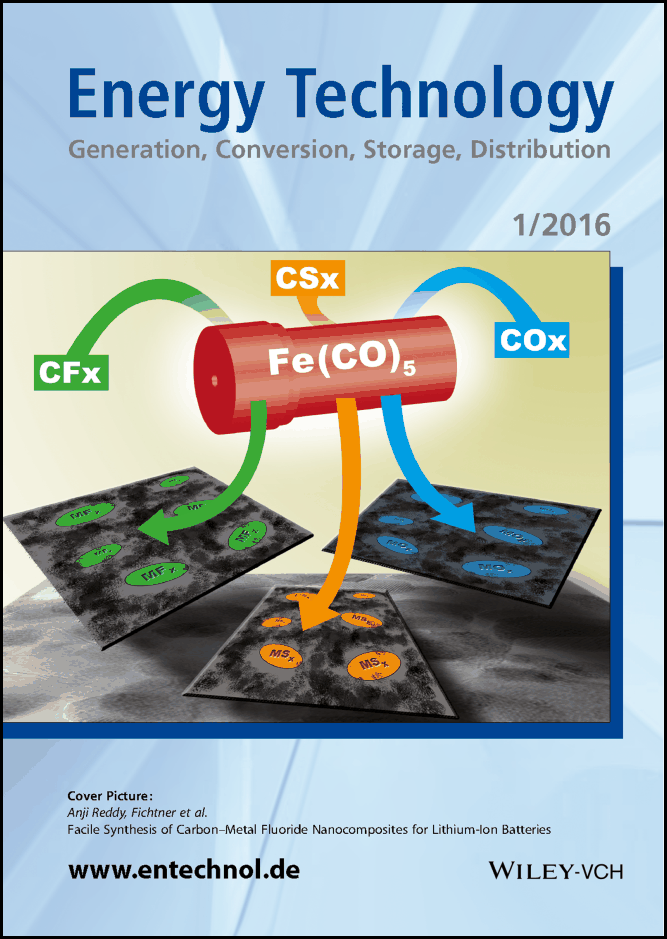 January 2015, Vol. 3 May 2015, Vol. 5 February 2016, Vol. 4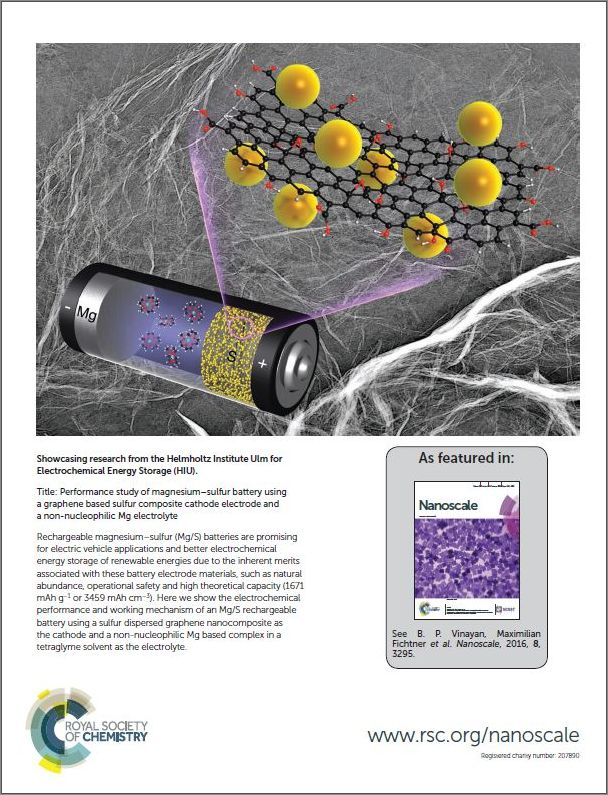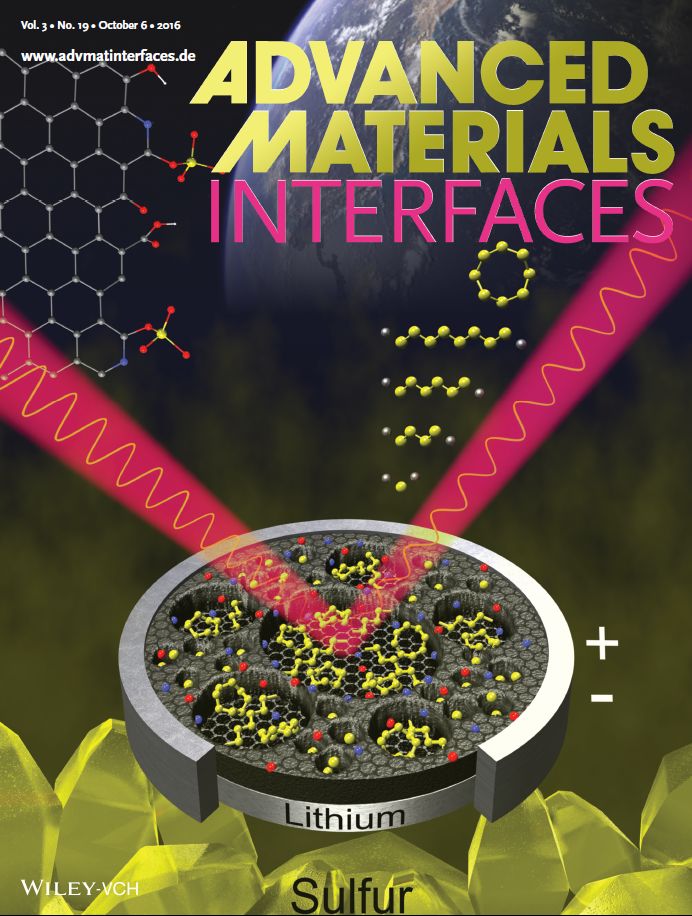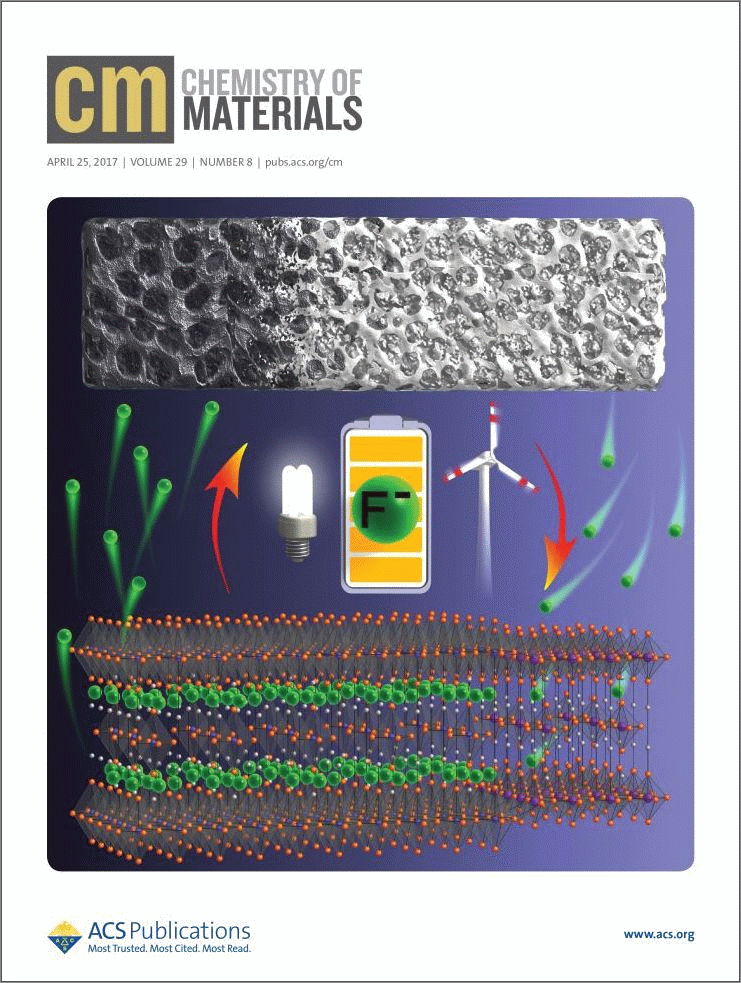 February 2016, Vol. 6 October 2016, Vol. 3 March 2017, Vol. 29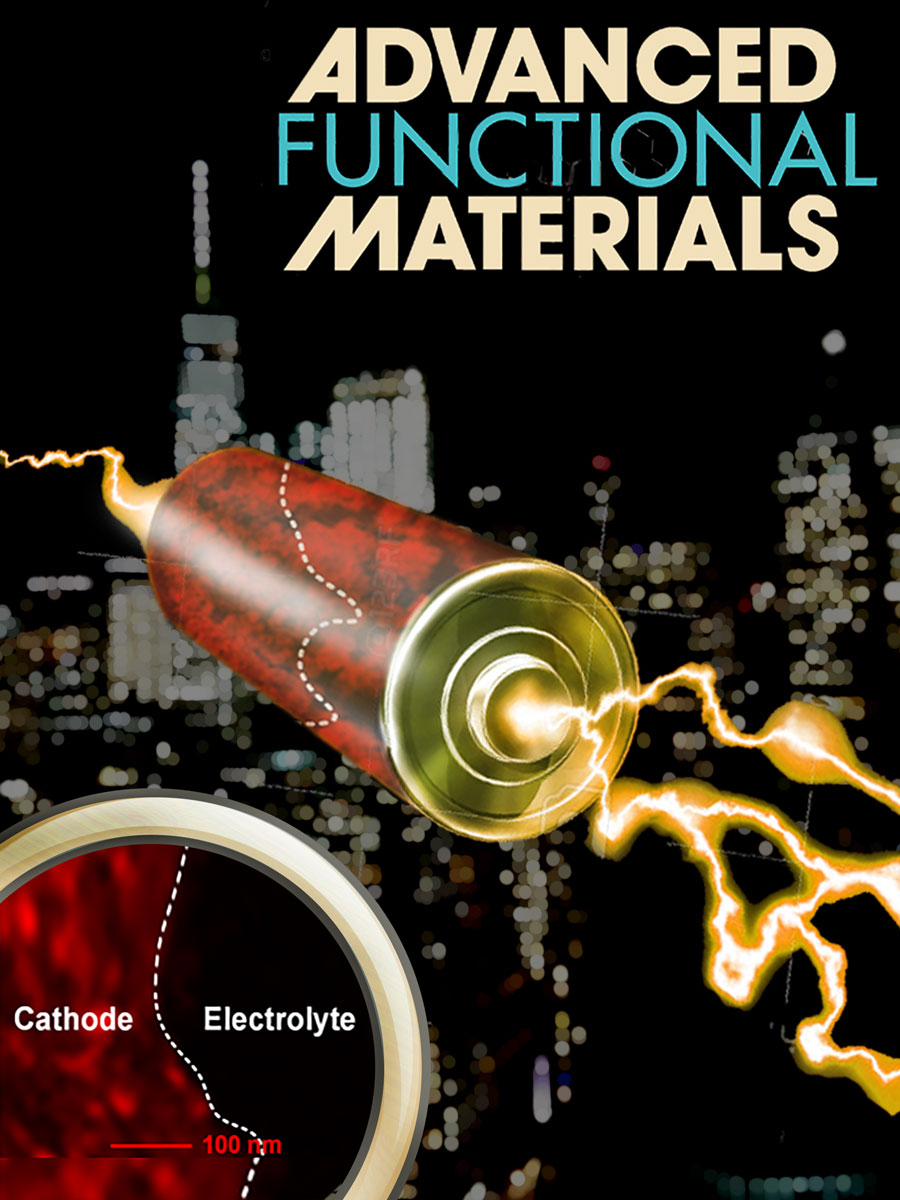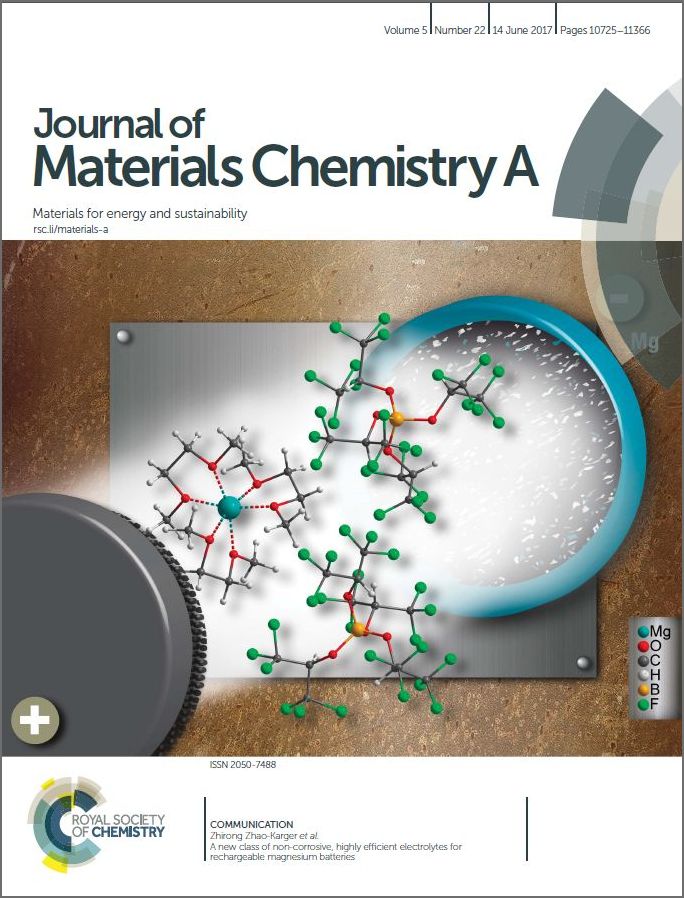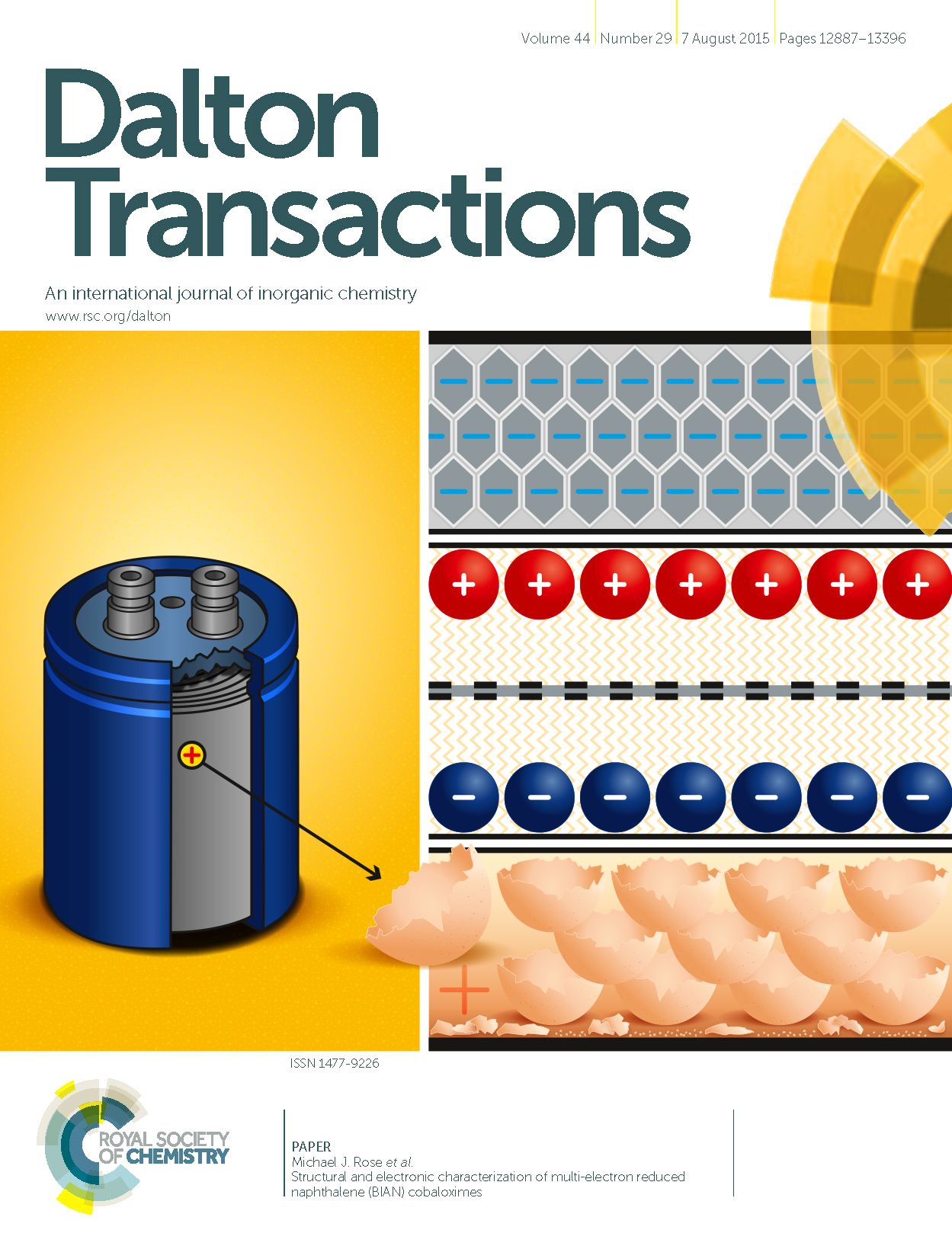 June 2017 June 2017, Vol. 5 Dec. 2018, Vol. 4 7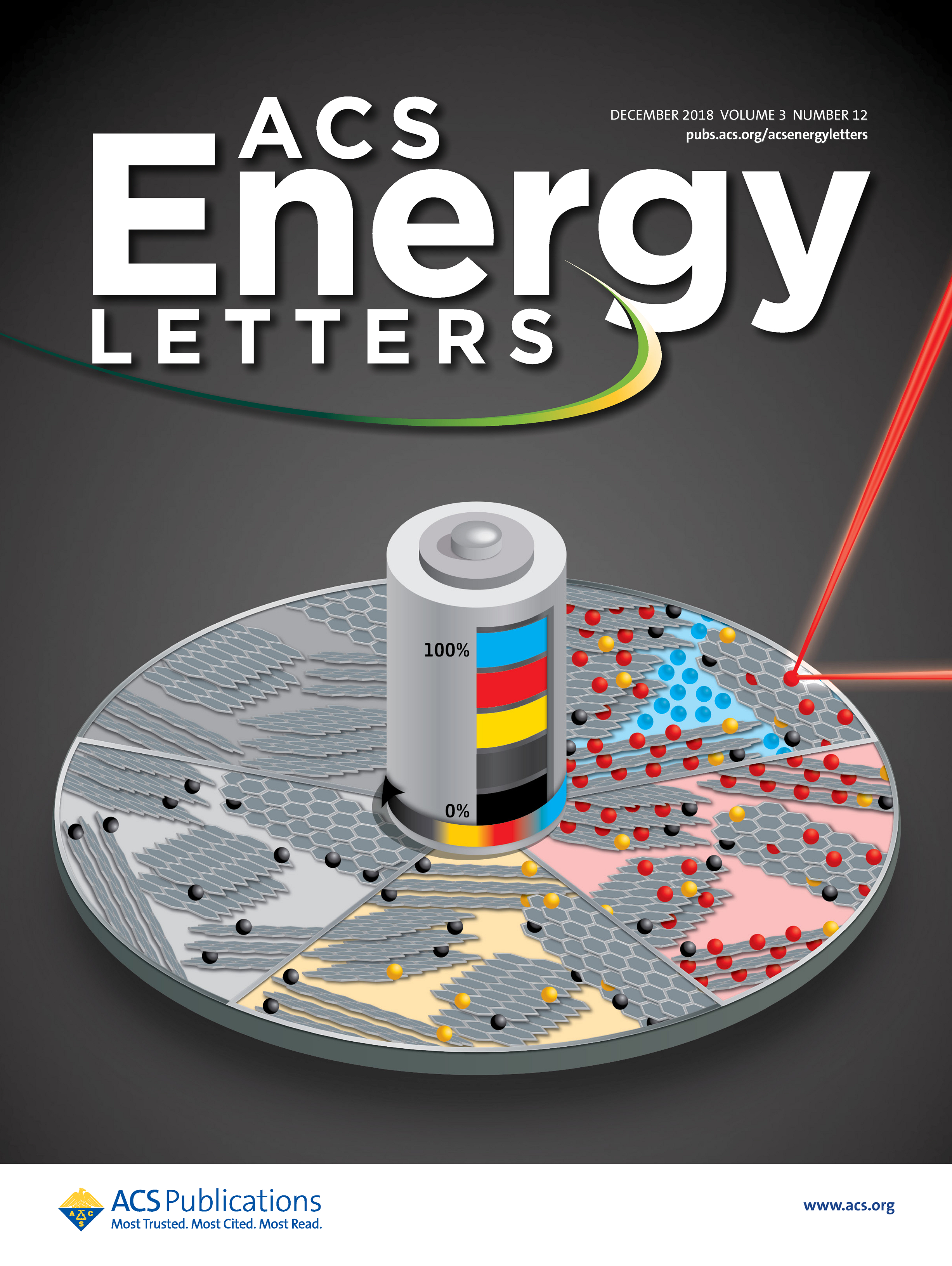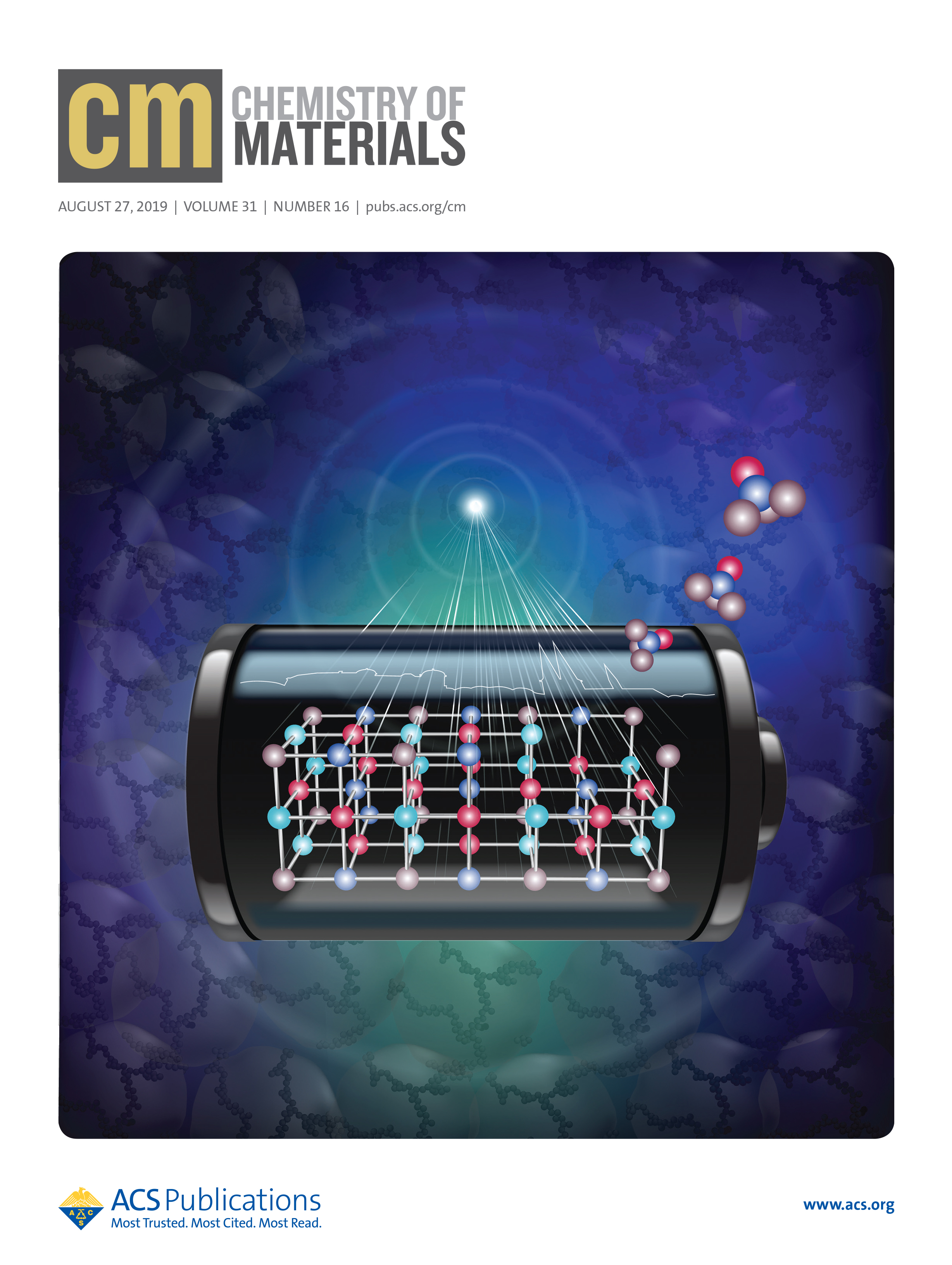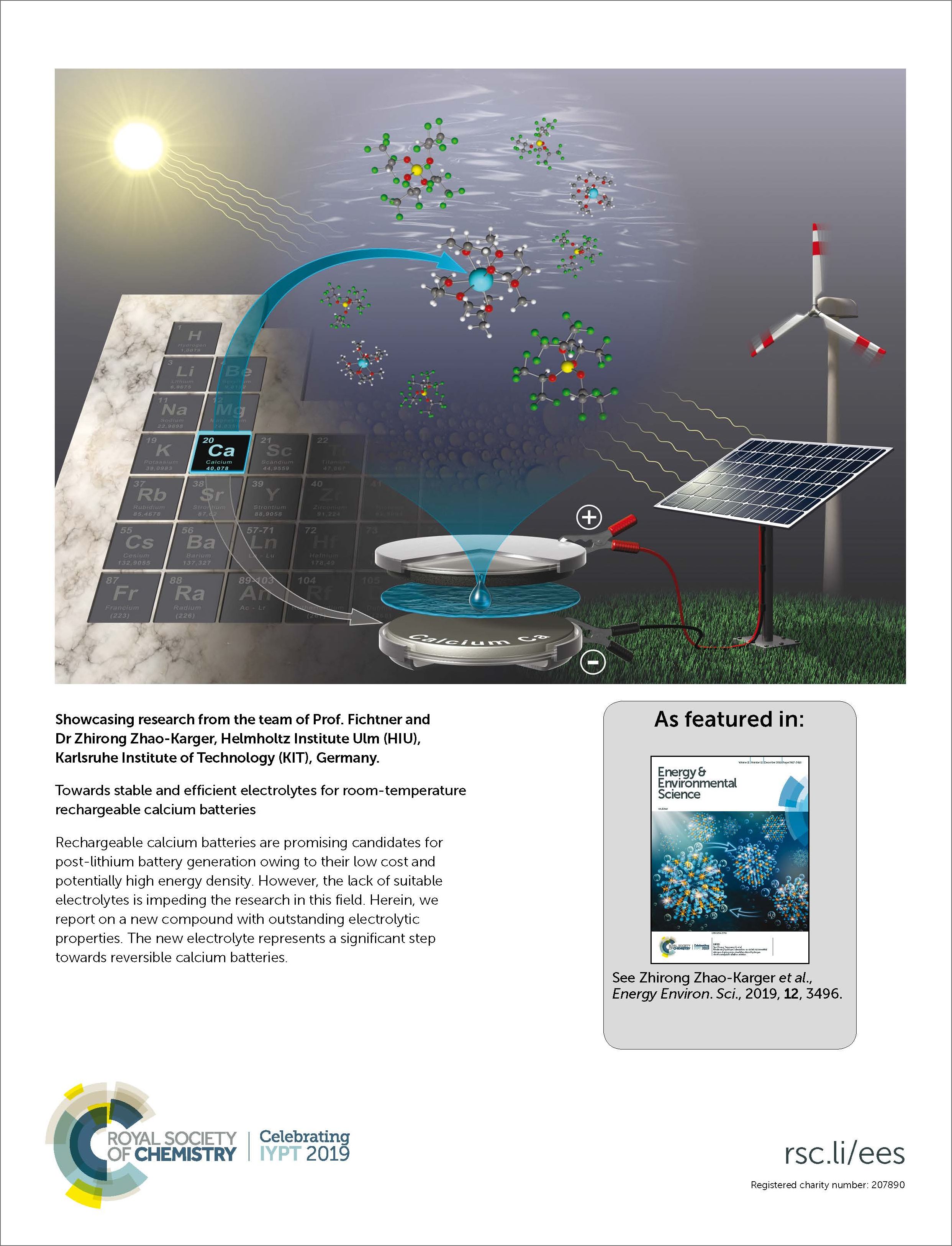 Dec 2018, Vol. 2 June 2019, Vol. 31 Dec 2019, Vol. 12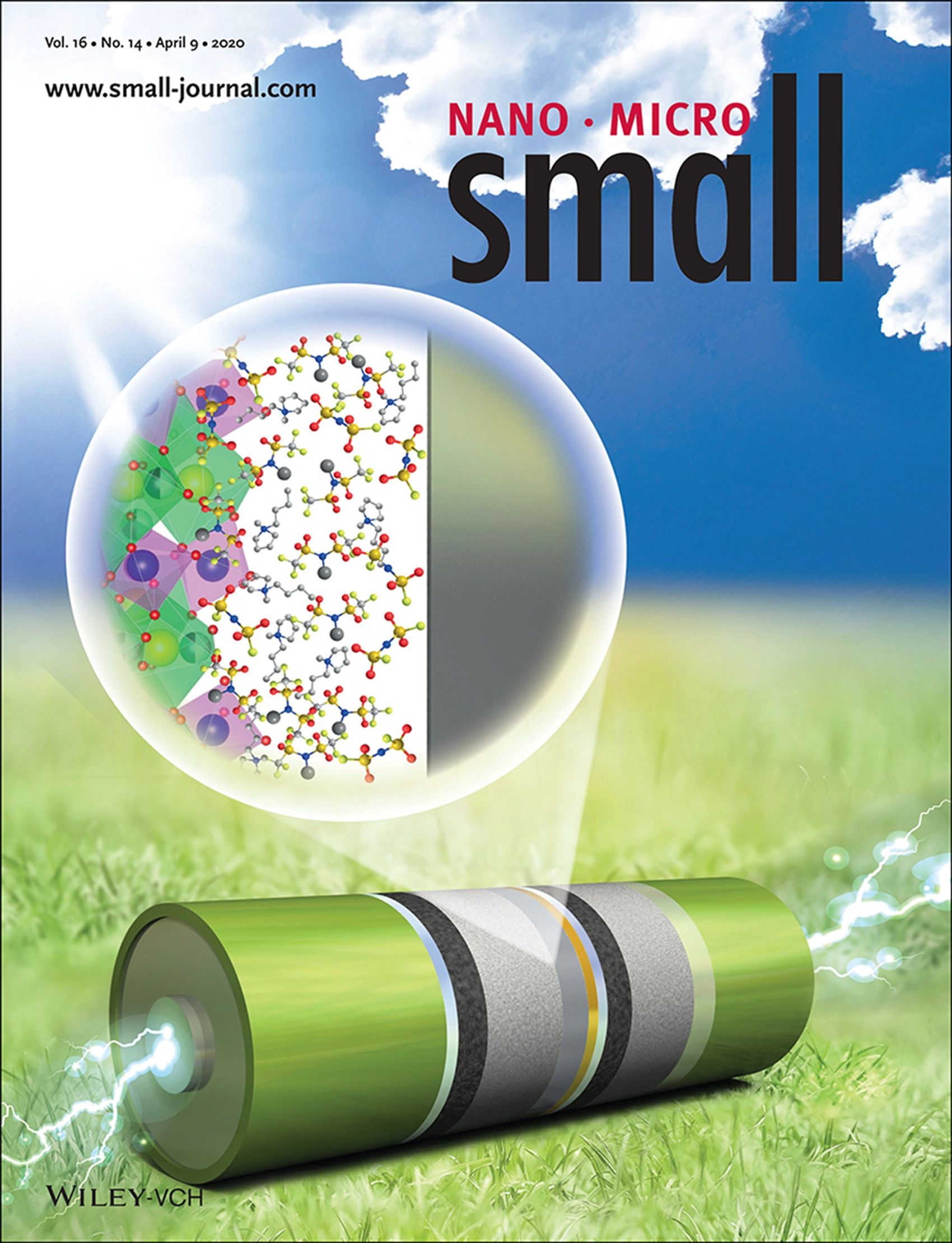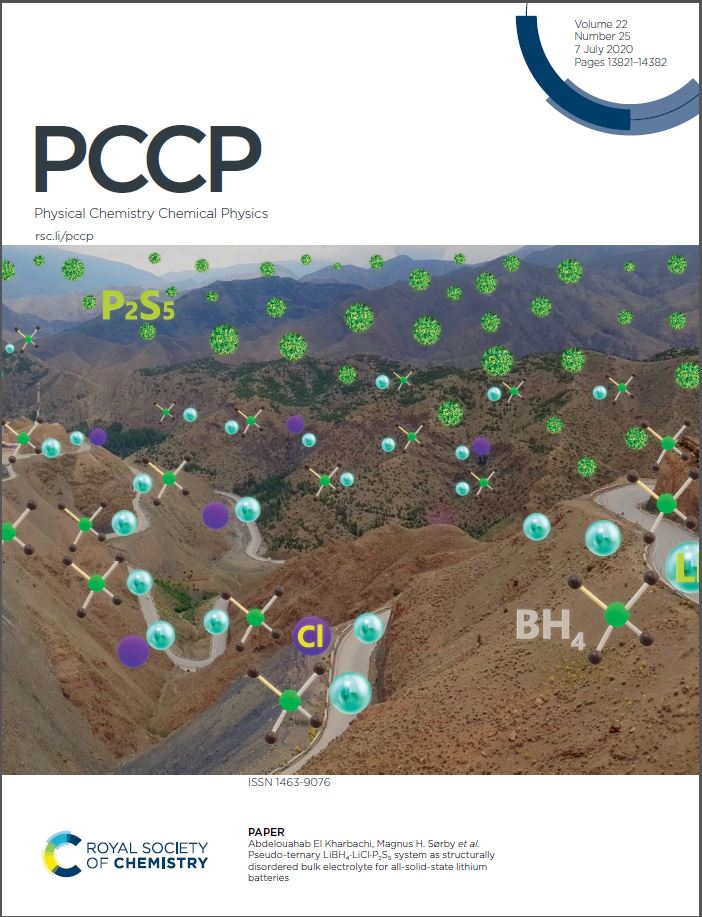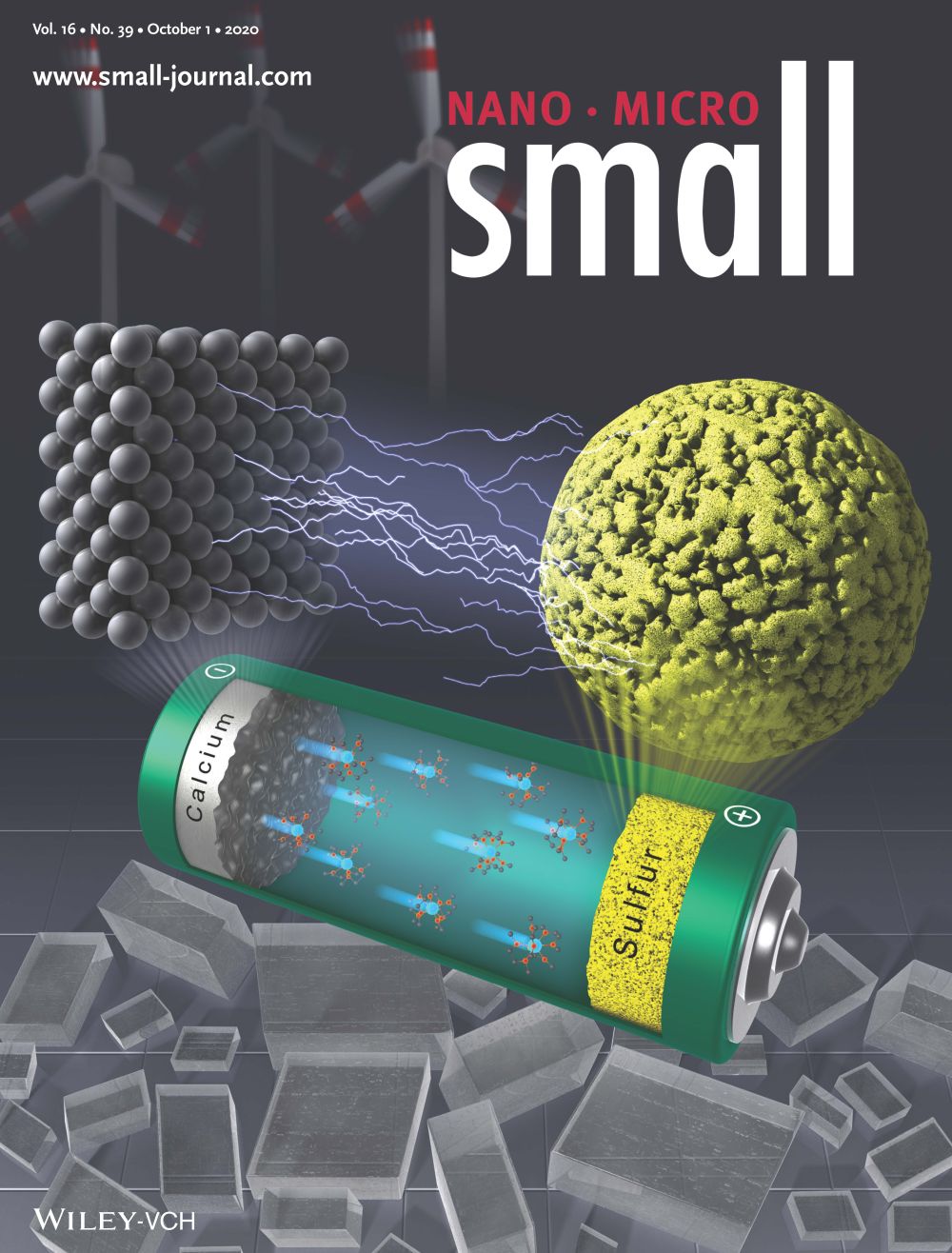 April 2020, Vol. 14 July 2020, Vol.22 August 2020, Vol. 16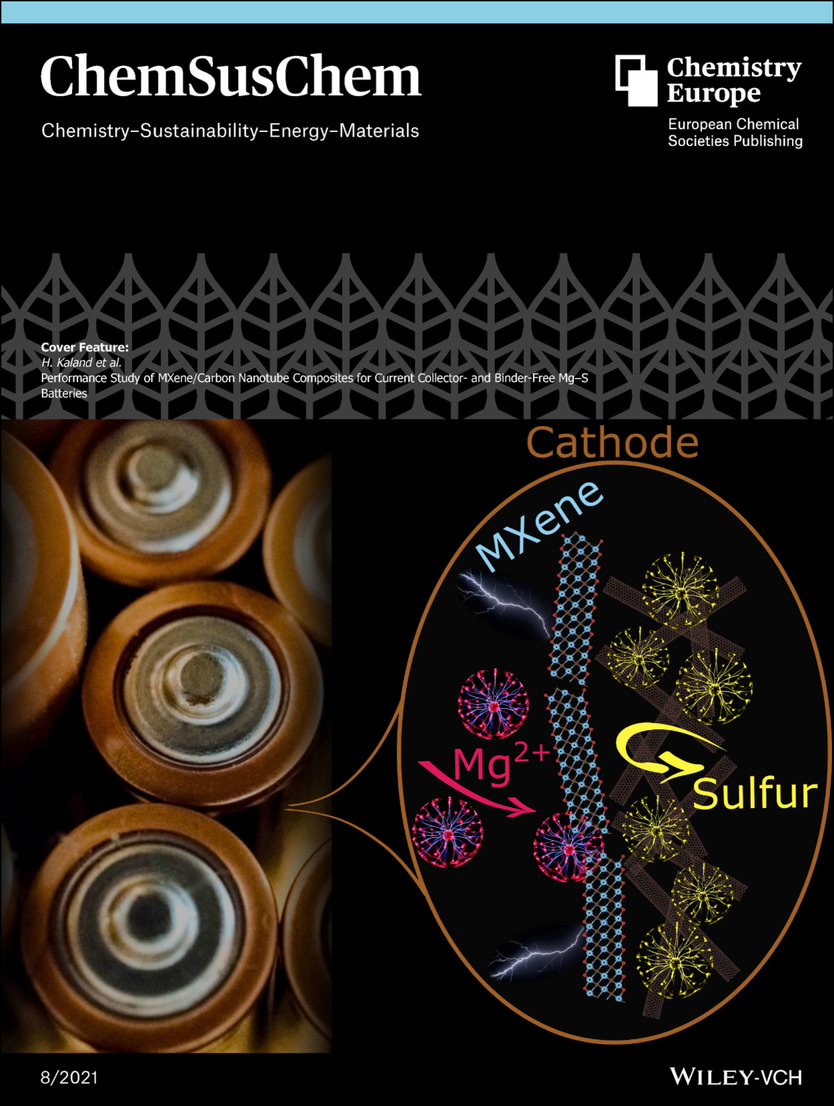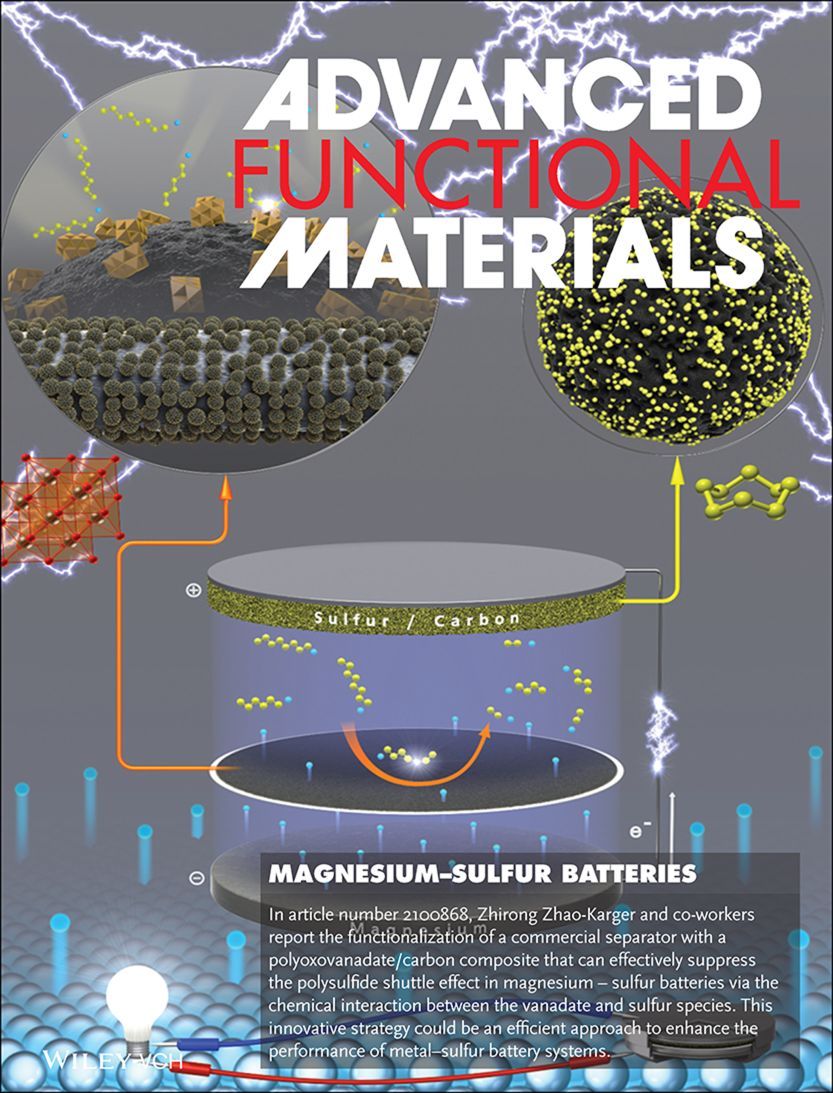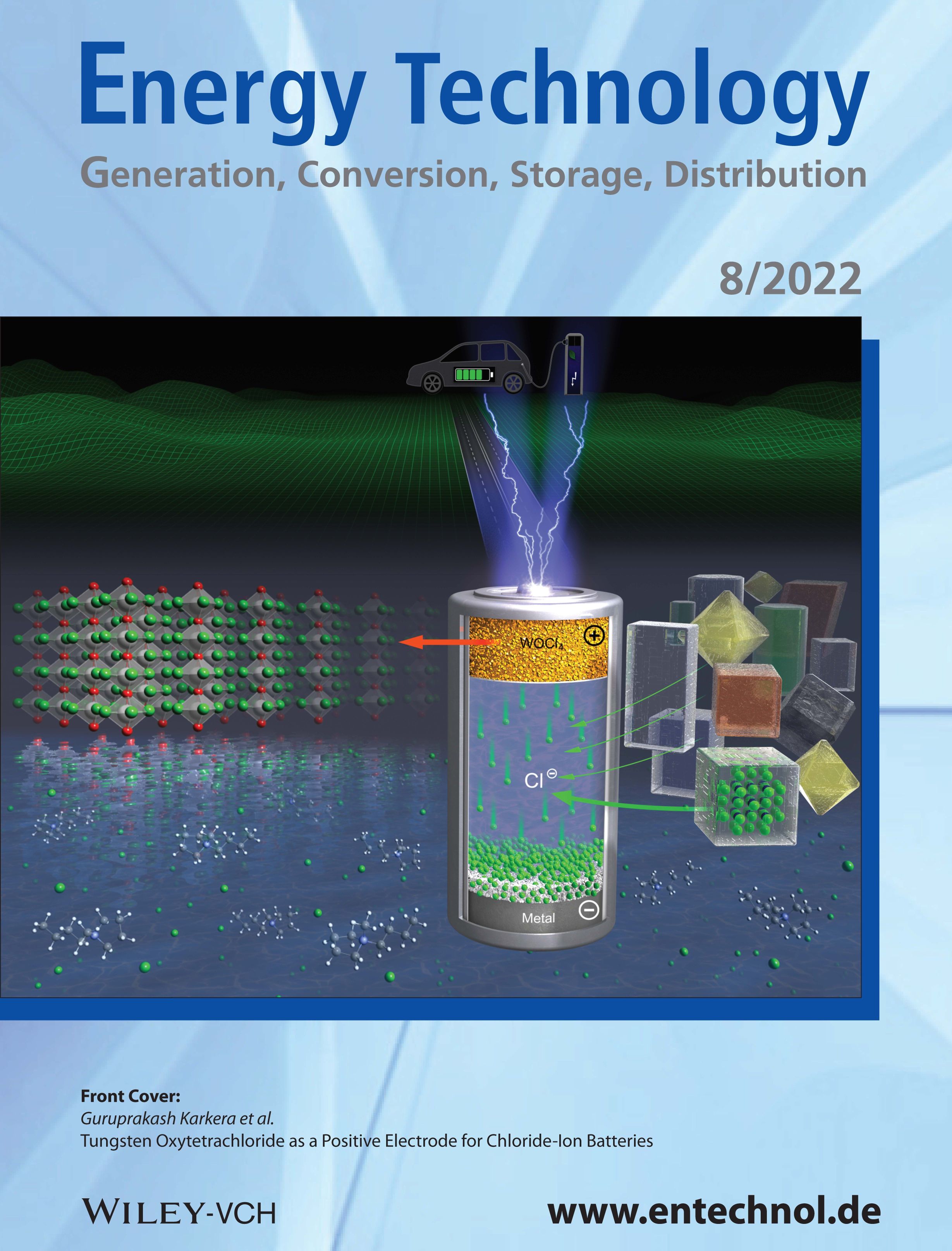 April 2021, Vol. 14,9 July 2021, Vol. 31 August 2022, Vol. 8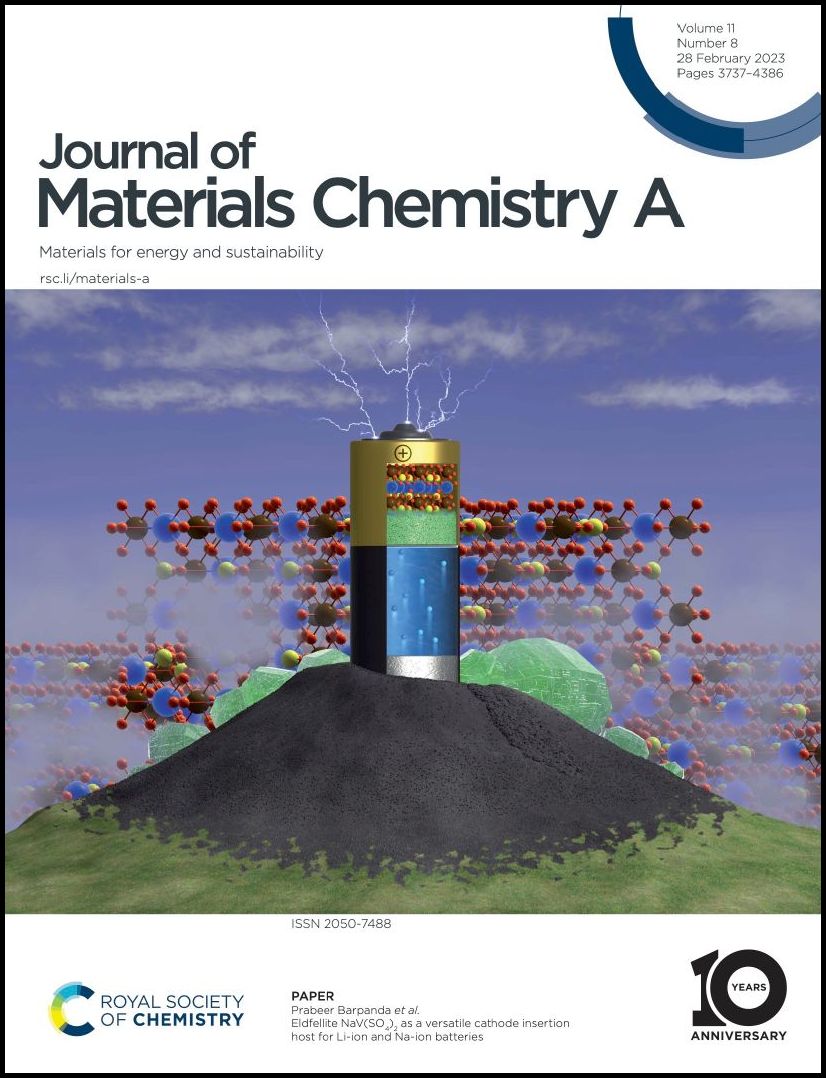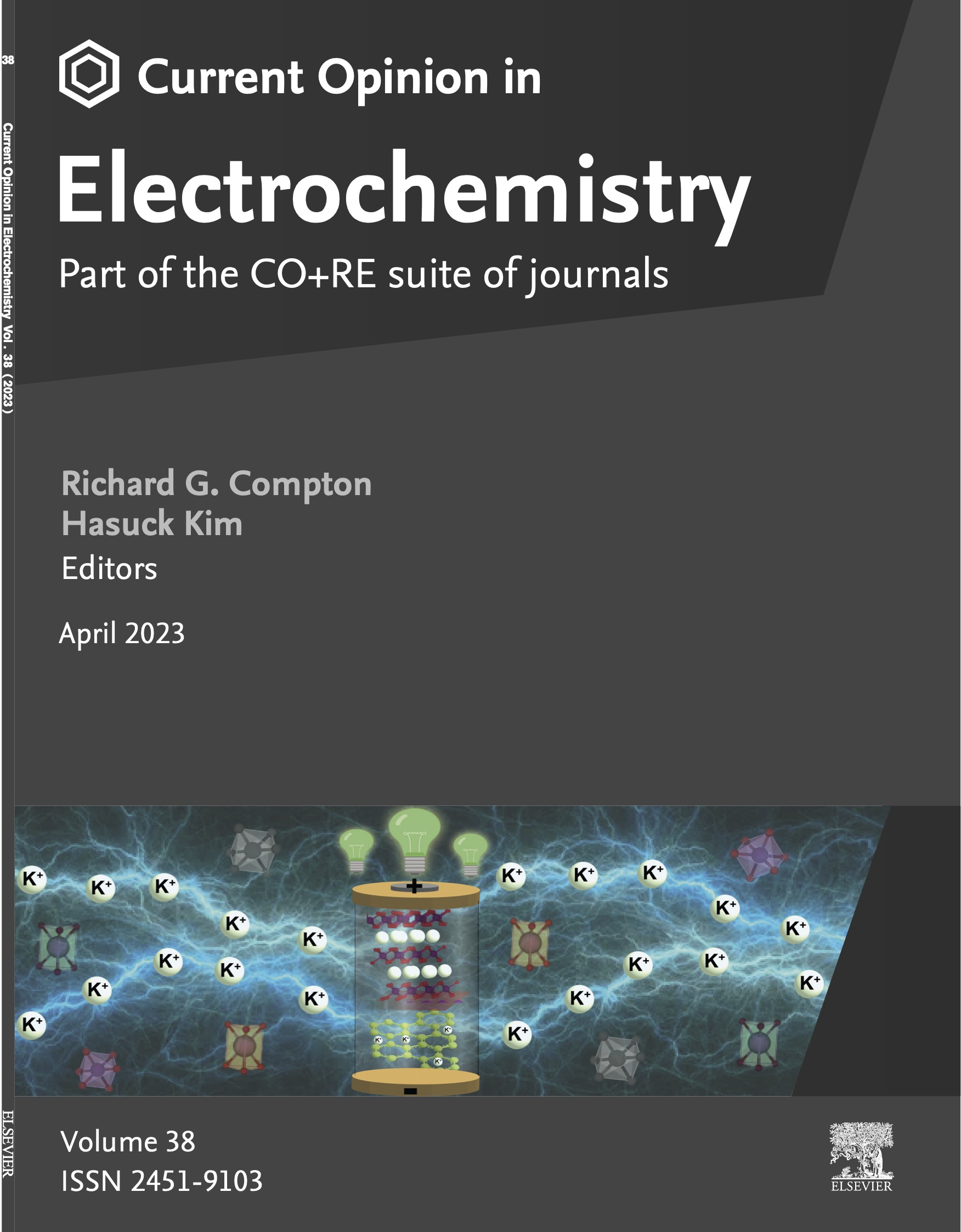 February 2023, Vol. 11,8 April 2023, Vol. 38
Publications by year

2023

A structurally flexible halide solid electrolyte with high ionic conductivity and air processability
G. Karkera, M. Soans, A. Akbaş, R. Witter, H. Euchner, T. Diemant, M. A. Cambaz, Z. Meng, B. Dasari, S. G. Chandrappa, P. W. Menezes, M. Fichtner
Advanced Energy Mater. (2023) accepted

A Practical Perspective on the Potential of Rechargeable Mg Batteries
R. R. Maça, O. Leonet, E. Azaceta, A. Mukherjee, Z. Zhao-Karger, Z. Li, A. Kovalevsky, A. Fernández-Barquín, A. R. Mainar, P. Jankowski, L. Rademacher, S. Dey, S. E. Dutton, C. P. Grey, J. Drews, J. Häcker, T. Danner, A. Latz, D. Sotta, M. R. Palacin, J.-F. Martin, J. M. García Lastra, M. Fichtner, S. Kundu, A. Kraytsberg, Y. Ein-Eli, M. Noked, D. Aurbach, J. A. Blázquez,
Energy Environm. Science (2023) DOI: 10.1039/d2ee04121a

High-entropy sulfides as highly effective catalysts for the oxygen evolution reaction
L. Lin, Z. Ding, G. Karkera, T. Diemant, M. Veerraju Kante, D. Agrawal, H. Hahn, J. Aghassi, M. Fichtner, B. Breitung, S. Schweidler
Small Structures (2023) 2300012

Modeling of Magnesium Intercalation into Chevrel Phase Mo6S8: Report on improved cell design
J. Drews; J. Wiedemann; R. R. Maça; Liping Wang; J. A. Blázquez; Z. Zhao-Karger; M. Fichtner; T. Danner; A. Latz
Batt. & Supercaps (2023) e202200562

High Active Material Loading in Organic Electrodes Enabled by an in‐situ Electropolymerized π‐Conjugated Tetrakis (4‐Aminophenyl) Porphyrin
T. Smok, E. Abouzari‐Lotf, S. Frentzen, T. Diemant, M. Fichtner
Batteries & Supercaps (2023) e202300026

Na-Rich Disordered Rock Salt Oxyfluoride Cathode Materials for Sodium Ion Batteries
Y. Shirazi Moghadam, A. El Kharbachi, Y. Hu, K. Wang, S. Belin, M. Fichtner
ACS Mater. Lett. 5 (2023) 125-132

Synthesis and Structure Stabilization of Disordered Rock Salt Mn/V-Based Oxyfluorides as Cathode Materials for Li-Ion Batteries
I. Blumenhofer, Y Shirazi Moghadam, A. El Kharbachi, Y. Hu, K. Wang, M. Fichtner
ACS Materials Au (2023) online

Coupling Particle Ordering and Spherulitic Growth to the Long-Term Performance of Nanocellulose/Poly (Ethylene Oxide) Electrolytes
G. Bobrov, S. A. Kedzior, S. Atif Pervez, A. Govedarica, G. Kloker, M. Fichtner, V. Michaelis, G. Bernard, P. Veelken, F. Hausen, M. Trifkovic,
ACS Appl. Mater Interf 15,1 (2023) 1996-2008

Molecular Engineering of Metalloporphyrins for High-Performance Energy Storage: Central Metal Matters
S. Shakouri, E. Abouzari-Lotf, J. Chen, T. Diemant, S. Klyatskaya, F. D. Pammer, A. Mizuno, M. Fichtner, M. Ruben
ChemSusChem (2023) e202202090

P3 type layered oxide frameworks: An appealing family of insertion materials for K-ion batteries,
P. K. Jha, V. Pralong, M. Fichtner, P. Barpanda
Current Opinion in Electrochemistry (2023) 101216
COVER ARTICLE

Eldfellite NaV(SO4)2 as a versatile cathode insertion host for Li-ion and Na-ion batteries
S. Singh, D. Singh, R. Ahuja, M. Fichtner, P. Barpanda
J. Materials Chem A (2022) Advance Article
COVER ARTICLE

Garnet-type Lithium Metal Fluorides: A Potential Solid Electrolyte for Solid-State Batteries
E. Umeshbabu, S. Maddukuri, D. Aurbach, M. Fichtner, A.R. Munnangi
ACS Applied Energy Materials 6 (2023) 51-57
2022

Anion Storage Chemistry of Organic Cathodes for High-Energy and High-Power Density Divalent Metal Batteries
Y. Xiu, A. Mauri, S. Dinda, Y. Pramudya, Z. Ding, T. Diemant, A. Sarkar, L. Wang, Z. Li, W. Wenzel, M. Fichtner and Z. Zhao-Karger
Angew. Chemie Int. Ed. (2022) e202212339

Synthesis of Perovskite-Type High-Entropy Oxides as Potential Candidates for Oxygen Evolution
S. Schweidler, Y. Tang, L. Lin, G. Karkera, A. Alsawaf, L. Bernadet, B. Breitung, H. Hahn, M. Fichtner, A. Tarancón and M. Botros
Frontiers in Energy Research 10 (2022) doi:10.3389/fenrg.2022.983979

Calcium-tin alloys for ultra-stable rechargeable calcium batteries
Z. Zhao-Karger, Y. Xiu , Z. Li, A. Reupert, T. Smok, M. Fichtner
Nature Comm. 13 (2022) 3849

Long-Cycle-Life Calcium Battery with High-Capacity Conversion Cathode Enabled by Ca2+/Li+ Hybrid Electrolyte,
Z. Meng, A. Reupert, Y. Tang, Z. Li, G. Karkera, L. Wang, A. Roy, T. Diemant, B. Babu Dasari, M. Fichtner, Z. Zhao-Karger
ACS Appl. Mater. Interfaces 14,49 (2022) 54616-54622

Synthesis of Perovskite-Type High-Entropy Oxides as Potential Candidates for Oxygen Evolution
S. Schweidler, Y. Tang, L. Lin, G. Karkera, A. Alsawaf, L. Bernadet, B. Breitung, H. Hahn, M. Fichtner, A. Tarancón and M. Botros
Frontiers in Energy Research (2022) doi:10.3389/fenrg.2022.983979

Borate based surface coating of Li-rich Mn-based disordered rocksalt cathode materials
Y. Shirazi Moghadam, A. El Kharbachi, M.A. Cambaz, Y. Hu, S. Dinda, G. Melinte, M. Fichtner,
Adv. Mater. Interfaces (2022) 2201200

Improving the electrochemical properties of advanced cross-linked solid-polymer composite electrolytes
G. Kloker, S.A. Pervez, A. Hoefling, M. Fichtner
ACS Applied Energy Materials 22,5 (2022) 13410-13418

Anion Storage Chemistry of Organic Cathodes for High-Energy and High-Power Density Divalent Metal Batteries
Y. Xiu, A. Mauri, S. Dinda, Y. Pramudya, Z. Ding, T. Diemant, A. Sarkar, L. Wang, Z. Li, W. Wenzel, M. Fichtner and Z. Zhao-Karger
Angew. Chemie Int. Ed. (2022) e202212339

Pyrophosphate Na2CoP2O7 Polymorphs as Efficient Bifunctional Oxygen Electrocatalysts for Zinc-Air Batteries
R. Gond, S. Singh, X. Zhao, D. Singh, R. Ahuja, M. Fichtner, P. Barpanda
ACS Appl. Mater. Interfaces 14,36 (2022) 40761-40770

P2-Type Layered High-Entropy Oxides as Sodium-Ion Cathode Materials,
J. Wang, S. Dreyer, K. Wang, Z. Ding, T. Diemant, Y. Ma, K. Guruprakash, A. Sarkar, B. Zhou, M.V. Gorbunov, A. Omar, D. Mikhailova, V. Presser, M. Fichtner, H. Hahn, T. Brezesinski, B. Breitung, Q. Wang
Materials Futures 1 (2022) 035104

Ionically Conducting Inorganic Binders: A Paradigm Shift in Electrochemical Energy Storage
S. Trivedi, V. Pamidi, M. Fichtner and M. Anji Reddy
Green Chemistry 24 (2022) 5620

Operando UV/vis Spectroscopy Providing Insights into the Sulfur and Polysulfide Dissolution in Magnesium−Sulfur Batteries,
J. Häcker, D. Hien Nguyen, T. Rommel, Z. Zhao-Karger, N. Wagner, and K. A. Friedrich
ACS Energy Lett. 2022, 7, 1−9

Tungsten oxytetrachloride as a positive electrode for chloride-ion batteries
G. Karkera, M. Soans, B. Dasari, U. Ediga, M. A. Cambaz, Z. Meng, T. Diemant and M. Fichtner
Energy Technology (2022) 202200193

Influence of Chloride Ion Substitution on Lithium-ion Diffusion and Electrochemical Stability in a Dual-Halogen Solid-State Electrolyte
E. Umeshbabu, S. Maddukuri, Y. Hu; M. Fichtner A.R. Munnangi
ACS Mater & Interf. 14,22 (2022) 25448-25456

Unveiling the Role of Configurational Entropy in Manganese-Based Hexacyanoferrate Cathodes for Sodium-Ion Batteries
Y. Ma, Y. Hu, Y. Pramudya, T. Diemant, Q. Wang, D. Goonetilleke, Y. Tang, B. Zhou, H. Hahn, W. Wenzel, J. Aghassi-Hagmann, M. Fichtner, Y. Ma, B. Breitung and T. Brezesinki
Adv. Func. Mater. (2022) 2202372

Micron Sized Single Crystal Cathodes for Sodium Ion Batteries
V. Pamidi, S. Trivedi, M. Fichtner, A.R. Munnangi
iScience 25 (2022) 104205

Designing Gel Polymer Electrolyte with Synergetic Properties for Rechargeable Magnesium Batteries
L. Wang, Z. Li, Zhen Meng, Y. Xiu, B. Babu Dasari, Z. Zhao−Karger and M. Fichtner
Energy Storage Materials 48 (2022) 155-163

Structural and Electrochemical Insights from Fluorination of Disordered Mn-Based Rock Salt Cathode Materials
Y. Shirazi Moghadam, S. Dinda, A. El Kharbachi, G. Melinte, C. Kübel, M. Fichtner
Chem. Mater. 34,5 (2022) 2268-2281

Recent research and progress in batteries for electric vehicles
M. Fichtner
Batteries&Supercaps (2022) e202100224
MOST DOWNLOADED PAPER

Sodiation Of Hard Carbon: How Separating Enthalpy And Entropy Contributions Can Find Transitions Hidden In The Voltage Profile
M.P. Mercer, S. Affleck, E. M. Gavilán-Arriazu, A. Aragon-Zulke, P.A. Maughan, S. Trivedi, M. Fichtner, A. R. Munnangi, E.P.M. Leivac, H. E. Hoster
ChemPhysChem (2022) e202100748

Investigation of the anode-electrolyte interface in a magnesium full-cell with fluorinated alkoxyborate-based electrolyte
A. Roy, V.B. Parambath, T. Diemant, R.J. Behm, Z. Li, Z. Zhao-Karger, M. Fichtner
Batteries&Supercaps (2022) e202100305

A roadmap for transforming research to invent the batteries of the future designed the European large scale research initiative BATTERY 2030+
J. Amici, P. Asinari, E. Ayerbe, P. Barboux, P. Bayle-Guillemaud, R. J. Behm, M. Berecibar, E. Berg, A. Bhowmik, S. Bodoardo, I. E. Castelli, I. Cekic-Laskovic, R. Christensen, S. Clark, R. Diehm, R. Dominko, M. Fichtner, A. A. Franco, A. Grimaud, N. Guillet, M. Hahlin, S. Hartmann, V. Heiries, K. Hermansson, A. Heuer, L. Jabbour, S. Jana, J. Kallo, A. Latz, H. Lorrmann, O. M. Løvvik, S. Lyonnard, M. Meeus, E. Paillard, S. Perraud, T. Placke, Ch. Punckt, O. Raccurt, J. Ruhland, E. Sheridan, H. Stein, J.-M. Tarascon, V. Trapp, T. Vegge, M. Weil, W. Wenzel, M. Winter, A. Wolf, and K. Edström
Adv. Energy Mater. (2022) 2102785

Development of Magnesium Borate Electrolytes: Explaining the Success of Mg[B(hfip)4]2 Salt
P. Jankowski, Z. Li, Z. Zhao-Karger, T. Diemant, M. Fichtner, T. Vegge, J. M. Garcia Lastra
Energy Storage Materials 45 (2022) 1133-1143

Visualization of structural changes and degradation of porphyrin-based battery electrodes
T. Philipp, G. Neusser, E. Abouzari-Lotf, S. Shakouri, F.D.H. Wilke, M. Fichtner, M. Ruben, M. Mundszinger, J. Biskupek, U. Kaiser, P. Scheitenberger, M. Lindén, C. Kranz
J. Power Sources 522 (2022) 231002

Dual Role of Mo6S8 in Polysulfide Conversion and Shuttle in Magnesium–Sulfur Batteries,
L. Wang, P. Jankowski, C. Njel, W. Bauer, Z. Li, Z. Meng, B. Dasari, T. Vegge, J.M. García Lastra, Z. Zhao-Karger and M. Fichtner
Adv. Sci. (2022) 202104605
Enabling Modular Autonomous Feedback-Loops in Materials Science through Hierarchical Experimental Laboratory Automation and Orchestration
F. Rahmanian, J. Flowers, D. Guevarra, M. Richter, M. Fichtner, P. Donnely, J. M. Gregoire, and H.S. Stein
Adv. Mater. Interfaces (2022), 2101987

High-entropy sulfides as electrode materials for Li-ion batteries
L. Lin, K. Wang, A. Sarkar, C. Njel, G. Karkera, Q. Wang, R. Azmi, M. Fichtner, H. Hahn, S. Schweidler and B. Breitung,
Adv. Energy Materials (2022) 2103090

Time resolved measurements of pH in aqueous magnesium air batteries during discharge and its impact for future applications
T. Braun, S. Dinda, F. Pammer, M. Fichtner
ChemElectroChem 9 (2022) e20210119

2021
Combining quinone-based cathode with an efficient borate electrolyte for high performance magnesium batteries
Y. Xiu, Z. Zhao-Karger, Z. Li, Vinayan Bhaghavathi Parambath, Z. Ding, L. Wang, A. Reupert, M. Fichtner
Batteries & Supercaps 4 (2021) 1850-1857

First-principles study of: Closo -dodecaborates M2B12H12(M = Li, Na, K) as solid-state electrolyte materials,
A. Akrouchi, H. Benzidi, A. Al-Shami, A. El kenz, A. Benyoussef, A. El Kharbachi and O. Mounkachi,
Physical Chemistry Chemical Physics 23,47(2021) 27014 - 27023

Rechargeable batteries of the future – The state of the art from a BATTERY 2030+ perspective
M. Fichtner, K. Edström, E. Ayerbe, M. Berecibar, A. Bhowmik, I. E. Castelli, S. Clark, R. Dominko, M. Erakca, A. A. Franco, A. Grimaud, B. Horstmann, A. Latz, H. Lorrmann, M. Meeus, R. Narayan, F. Pammer, J. Ruhland, H. Stein, J.-M. Tarascon, T. Vegge, M. Weil
Adv. Energy Materials (2021) 2102904

Mitigating self-discharge and improving the performance of Mg-S battery in Mg[B(hfip)4]2 electrolyte with a protective interlayer
D. Bosubabu, Z. Li, Z. Meng, L. Wang, M. Fichtner, and Z. Zhao‐Karger
J. Mater. Chem A 9 (2021) 25250

Environmental assessment of a new generation battery: The magnesium-sulfur system
C. Tomasini Montenegro, J. Peters, M. Baumann, Z. Zhao-Karger, C. Wolter, M. Weil
J. Energy Storage, 35 (2021) 102053

Towards Better Stability and Reversibility of Mn4+/Mn2+ Double-Redox Activity in Disordered Rocksalt Oxyfluoride Cathode Materials
Y. Shirazi Moghadam, A. El Kharbachi, T. Diemant, G. Melinte, Y. Hu, M. Fichtner
Chem. Mater. 33,21 (2021) 8235-8247

The Metamorphosis of Rechargeable Magnesium Batteries
R. Mohtadi, O. Tutusaus, T. Arthur, Z. Zhao-Karger, M. Fichtner
Joule 5 (2021) 1-37

Modeling of electron-transfer kinetics in magnesium electrolytes: Influence of the solvent on the battery performance
J. Drews, P. Jankowski, J. Häcker; Z. Li, T. Danner, J. M. García Lastra, T. Vegge, N. Wagner, K. A. Friedrich, Z. Zhao-Karger, M. Fichtner, A. Latz
ChemSusChem 14 (2021) 4820-4835
Accelerated kinetics revealing ergodic pathways of magnesiation-induced transformations in MnO2 polymorphs
T. Hatakeyama, H. Li, N. L. Okamoto, K. Shimokawa, T. Kawaguchi, H. Tanimura, M. Fichtner, and T. Ichitsubo
Chem. Mater. 33,17 (2021) 6983-6996

Biowaste eggshells as efficient electrodes for energy storage
M Minakshi, P. A. Schneider, and M. Fichtner
in Valorization of Agri-Food Wastes and By-Products: Recent Trends, Innovations, and Sustainability Challenges, (R. Bhat, ed.)
Elsevier Sciences (2021) ISBN 9780128240441

Surface Engineering of Mg Electrode via New Additive to Reduce Overpotential
Z. Meng, Z. Li, L. Wang, T. Diemant, B. Babu Dasari, T. Yushu, R. Berthelot, Z. Zhao-Karger, M. Fichtner
ACS Appl. Mater. & Interfaces 13,31 (2021) 37044-37051

Establishing a stable anode-electrolyte interface in Mg batteries by electrolyte additive
Z. Li, T. Diemant, Z. Meng, Y. Xiu, A. Reupert, L. Wang, M. Fichtner, Z. Zhao-Karger
ACS Applied Mater Interfaces 13,28 (2021) 33123-33132

Polyoxometalate Modified Separator for Performance Enhancement of Magnesium-Sulfur Batteries
Y. Ji, X. Liu-Théato, Y. Xiu, S. Indris, C. Nje, J. Maibach, H. Ehrenberg, M. Fichtner, Z. Zhao-Karger
Adv. Func. Materials (2021) 2100868
COVER ARTICLE

Degradation effects in metal-sulfur batteries
R. Richter, J. Häcker, Z. Zhao-Karger, T. Danner, N. Wagner, M. Fichtner, K.A. Friedrich, and Arnulf Latz
ACS Applied Energy Materials 4,3 (2021) 2365-2376

Performance Study of MXene/Carbon Nanotube Composites for Current Collector- and Binder-Free Mg-S Batteries
H. Kaland, F. Håskjold Fagerli, J. Hadler-Jacobsen, Z. Zhao-Karger, M. Fichtner, K. Wiika and N. P. Wagner
ChemSusChem 14,8 (2021) 1864-1873

Perspective on Ultramicroporous Carbon as Sulphur Host for Li-S Batteries
M. Helen, M. Fichtner, M. Anji Reddy
Journal of Energy Chemistry 59 (2021) 242-256

Recent results and future perspectives of anionic batteries
G. Karkera, M.A. Reddy, M. Fichtner
Journal of Power Sources 481 (2021) 228877
PERSPECTIVE ARTICLE

A Self-conditioned Metalloporphyrin as a Highly Stable Cathode for Fast Rechargeable Magnesium Batteries
E. Abouzari-Lotf, R. Azmi, Z. Li, S. Shakouri, Z. Chen, Z. Zhao-Karger, S. Klyatskaya, J. Maibach, M. Ruben; M. Fichtner
ChemSusChem 14 (2021) 1840-1846
2020
A review on current anode materials for rechargeable Mg batteries
D. Li, Y. Yuan, J. Liu, M. Fichtner, F. Pan
J. Magnesium and Alloys 8 (2020) 963-979
Investigation on the Formation of Mg metal Anode/Electrolyte Interfaces in Mg/S Batteries with Electrolyte Additives
B.P. Vinayan, Z. Zhao-Karger, T. Diemant, M. Jäckle, A. Gross, R.J. Behm, M. Fichtner
J. Mater. Chem. A 8 (2020) 22098-23010

Insights into self-discharge of lithium and magnesium sulfur batteries
R. Richter, J. Häcker, Z. Zhao-Karger, T. Danner, N. Wagner, M. Fichtner, K. Friedrich, and A. Latz
ACS Applied Energy Materials 3,9 (2020) 8457-8474

Electrochemical Synthesis of Carbon-Metal Fluoride Nanocomposites as Cathode Materials for Lithium Batteries
M. Helen, M. Fichtner M.A. Reddy
Electrochem. Commun. 120 (2020) 106846

Short range ordering in the Li-rich disordered rock salt cathode material Li2VO2F revealed by Raman spectroscopy
N. Mozhzhukhina, J. Kullgren, C. Baur, O. Gustafsson, W. Brant, M. Fichtner, D. Brandell
J. Raman Spectroscopy 51 (2020) 2095

Metal (boro-) hydrides for high energy density storage and relevant emerging technologies
L.J.Bannenberg, M.Heere, H.Benzidi, J.Montero, E.M.Dematteise, S.Suwarno, T.Jaroń, M.Winnyhi, A.Orłowski, W.Wegner, A.Starobrat, J.Fijałkowski, W.Grochala, Z.Qian, J.-P.Bonnet, I.Nuta, W.Lohstroh, C.Zlotea, A.El Kharbachi
Int. J. Hydrogen Energy 45,58 (2020) 33687-33730

Effects of Ball Milling and TiF3 Addition on the Hydrogen release of Ca(BH4)2 polymorphs
Llamas Jansa, O. Friedrichs, M. Fichtner, E. Gil Bardají, A. Züttel, B. C. Hauback
Energies 13 (2020) 4828
Rechargeable calcium-sulfur batteries enabled by an efficient borate-based electrolyte
Z. Li, B. P. Vinayan, T. Diemant, R. J. Behm, M. Fichtner, Z. Zhao-Karger
Small 16,39 (2020) 2001806
COVER ARTICLE

Superoxide formation in Li2VO2F cathode material - A combined computational and experimental investigation of anionic redox activity
J. Hyun Chang, C. Baur, J.-M. Ateba Mba, D. Arccon, G. Mali, D. Alwast, R.J. Behm, Maximilian Fichtner, T. Vegge, and J. M. Garcia Lastra
J Mater. Chem A 8 (2020) 16551

A stable TiO2-graphene nanocomposite anode with high rate capability for lithium-ion batteries
U. Farooq, F. Ahmed, S. Atif Pervez, S. Rehman, M. Pope, M. Fichtner, E. P. L. Roberts
RSC Advances 10 (2020) 29975-29982

Electrochemical and Compositional Characterization of Solid Interphase Layers in an Interface-Modified Solid-State Li-Sulfur Battery
S. A. Pervez, B. P. Vinayan, M. A. Cambaz, G. Melinte, T. Diemant, T. Braun, G. Karkera, R. J. Behm, M. Fichtner
J. Mater. Chem. A 8 (2020) 16451-16462

Short range ordering in the Li-rich disordered rock salt cathode material Li2VO2F revealed by Raman spectroscopy
N. Mozhzhukhina, J. Kullgren, C. Baur, O. Gustafsson, W. Brant, M. Fichtner, D. Brandell
J. Raman Spectrosc. (2020) DOI: 10.1002/jrs.5953

Alkali metal insertion in hard carbon - the full picture
H. Euchner, B. Vinayan, A.R. Munnangi, M. Fichtner, A. Gross
J. Mater. Chem. A 8 (2020) 14205-14213

Modeling of ion agglomeration in magnesium electrolytes and its impacts on the battery performance
J. Drews, T. Danner, P. Jankowski, T. Vegge, J.M. Garcia-Lastra, R. Liu, Z. Zhao-Karger, M. Fichtner, A. Latz
ChemSusChem 13,14 (2020) 3599-3604

Stabilisation of Li-rich disordered rocksalt oxyfluoride cathodes by particle surface modification
A.J. Naylor, I. Källquist, D. Peralta, J.-F. Martin, A. Boulineau, J.-F. Colin, C. Baur, J. Chable, M. Fichtner, K. Edström, M. Hahlin D. Brandell
ACS Appl. Energy Materials 3,6 (2020) 5937-5948

Insights into structural transformations in the local structure of Li2VO2F using operando X ray diffraction and Total Scattering: Amorphization and Recrystallization
C. Baur, M. Lacatusu, M. Fichtner, R Johnsen
ACS Appl. Materials & Interfaces 12,24 (2020) 27010-27016

Influence of electrolyte additives in the degradation of Li2VO2F Li-rich cathodes
I. Källquist, J.-F. Martin, A. J. Naylor, C. Baur, M. Fichtner, J.-F. Colin, D. Brandell, K. Edström, M. Hahlin
J. Phys. Chem. C 124, 24 (2020) 12956-12967

Pseudo-ternary LiBH4·LiCl·P2S5 system as structurally disordered bulk electrolyte for all-solid-state lithium batteries
A. El-Kharbachi, J. Wind, A. Ruud, A.B. Høgset, M.N. Nygård, J. Zhang, M.H. Sørby, S. Kim, F. Cuevas, S. Orimo, M. Fichtner, M. Latroche, H. Fjellvåg, B.C. Hauback
Phys.Chem.Chem.Phys. 22 (2020) 13872
COVER ARTICLE

First results from in situ TEM studies of all-solid-state fluoride ion batteries
M. Hammad Fawey, A. R. Munnangi, C. Rongeat, H. Hahn, Ch. Kübel, M. Fichtner, V. S. K. Chakravadhanula
J. Power Sources 466 (2020) 228283

Motivation for a Magnesium Battery
M. Fichtner
RSC Energy and Environment Series, Volume 2020-January, Issue 23, 2020, Pages 1-16

Preface
M. Fichtner
RSC Energy and Environment Series, Volume 2020-January, Issue 23, 2020, Pages V-VII

Understanding the origin of higher capacity for Ni-based disordered rock-salt cathodes
M. Cambaz, A. Urban, S.A. Pervez, H. Geßwein, A. Schiele, A. Guda, A. Bugaev, A. Mizailkin, T. Diemant, R.J. Behm, T. Brezesinski, M. Fichtner
Chem. Mater. 32,8 (2020) 3447-3461

Redox-inactive ions control the redox-activity of molecular vanadium oxides
S. Greiner, B. Schwarz, M.H. Anjass, M. Ringenberg, I. Ivanovic-Burmazovic, M. Fichtner and C. Streb
Chem.Sci. 11 (2020) 4450-4455

Multi-electron reactions enabled by anion-participated redox chemistry for high-energy multivalent rechargeable batteries
Z. Li, B. P. Vinayan, P. Jankowski, C. Njel, A. Roy, T. Vegge, J. Maibach, J.M. García Lastra, M. Fichtner, Z. Zhao-Karger
Angew. Chemie Int. Ed. 59 (2020) 2-10
HOT PAPER

Copper Porphyrin as a Stable Cathode for High Performance Rechargeable Potassium Organic Batteries
S. Lv, J. Yuan, Z. Chen, P. Gao, H. Shu, X. Yang, E. Liu, S. Tan, M. Ruben, Z. Zhao-Karger, M. Fichtner
ChemSusChem 13 (2020) 2286-2294
VERY IMPORTANT PAPER

Overcoming the Interfacial Limitations Imposed by the Solid-Solid Interface in Solid-State Batteries using Ionic Liquid-based Interlayers
S.A. Pervez, G. Kim, B.P. Vinayan, M. A. Cambaz, M. Kuenzel, M. Hekmatfar, M. Fichtner, S. Passerini,
Small 16 (2020) 2000279
COVER ARTICLE

Investigation of Magnesium–Sulfur Batteries using Electrochemical Impedance Spectroscopy
J. Häcker, C. Danner, Z. Zhao-Karger, B. Sievert, N. Wagner, K. A. Friedrich
Electrochimica Acta 338 (2020) 135787

Halide-based materials and chemistries for rechargeable batteries: a review
X. Zhao, Z. Zhao-Karger, M. Fichtner, and X. Shen
Angew. Chem. Int. Ed. 59 (2020) 2-50
HIGHLY CITED PAPER

Exploits, advances and challenges benefiting beyond Li-ion battery technologies
A. El Kharbachi, O. Zavorotynska, M. Latroche, F. Cuevas, V. Yartys, M. Fichtner
J. Alloys Compounds 817 (2020) 153261

From Trigonal to Cubic LiVO2: A High-Energy Phase Transition toward Disordered Rock Salt Materials
J. Chable, C. Baur, J.H. Chang, S. Wenzel, J.-M. Garcia-Lastra, T. Vegge
J. Phys. Chem. C 124,3 (2020) 2229-2237

Stabilization of decavanadates for the application as cathode materials in lithium-ion batteries
S. Greiner, M. H. Anjass, M. Fichtner, and C. Streb
Inorg. Chemistry Frontiers 7 (2020) 134-139
2019
Insights into the electrochemical processes of rechargeable magnesium-sulfur batteries with new cathode design
B.P. Vinayan, H. Euchner, Z. Zhao-Karger, M-A. Cambaz, Z. Li., T. Diemant, R.J. Behm, M. Fichtner
J. Mater. Chemistry A 7 (2019) 25490-25502

Design and tuning of the electrochemical properties of vanadium-based cation disordered rock-salt oxide positive electrode materials for lithium-ion batteries
M. Cambaz, B.P. Vinayan, H. Euchner, S.A. Pervez, H. Geßwein, T. Braun, A. Groß, M. Fichtner
ACS Applied Materials & Interfaces 11 (2019) 39848-39858

Towards stable and efficient electrolytes for room-temperature rechargeable calcium batteries
Z. Li, O. Fuhr, M. Fichtner, Z. Zhao-Karger
Energy & Environ. Sci. 12 (2019) 3496-3501
COVER ARTICLE

Halide-based materials and chemistries for rechargeable batteries: a review
X. Zhao, Z. Zhao-Karger, M. Fichtner, and X. Shen
Angew. Chem. Int. Ed. (2019) online

Unlocking the Potential of Fluoride-Based Solid Electrolytes for Solid-State Lithium Batteries
M. Feinauer, H. Euchner, M. Fichtner, and M. Anji Reddy
ACS Appl. Energy Mater. 2,10 (2019) 7196-7203

Suppressing dissolution of vanadium from cation-disordered Li2-xVO2F via a concentrated electrolyte approach
M. Cambaz, B. P. Vinayan, S.A. Pervez, R.E. Johnsen, H. Geßwein, A. Guda, Y. Rusalev, M. Kinyanjui, U. Kaiser, M. Fichtner
Chem. Mater. 31,19 (2019) 7941-7950

Calcined chicken eggshell electrode for battery and supercapacitor applications
M. Minakshi, S. Higley, Ch. Baur, D.R.G. Mitchell, R. Jones, and M. Fichtner
RSC Advances 9 (2019) 26981-26095

Improved Cycling Stability in High-Capacity Li-excess Vanadium Disordered Rock Salt Oxyfluoride Cathodes
Ch. Baur, J. Chable, I. Källquist, J. H. Chang, R. E. Johnsen, F. Ruiz‐Zepeda, J.-M. Ateba Mba A.J. Naylore, M. Hahlin, J. M. G. Lastra, T. Vegge, P. Norby, F. Klein, A. R. Schür, K. Edström, and M. Fichtner
J. Mater. Chem. A 7 (2019) 21244-21253

A Lithium-Free Energy Storage Device based on an Alkyne-Substituted-Porphyrin Complex
Z. Chen, P. Gao, W. Wang, S. Klyatskaya, Z. Zhao-Karger, D. Wang, C. Kübel, O. Fuhr, M. Fichtner, and M. Ruben
ChemSusChem 12 (2019) 3737-3741

Interface in solid-state Li battery: challenges, progress and future outlook
S.A. Pervez, M. Cambaz, V. Thangadurai M. Fichtner
ACS Applied Materials & Interfaces 11,25 (2019) 22029-22050

Degradation mechanisms in Li2VO2F Li-rich disordered rock-salt cathodes
I. Källquist, A. J. Naylor, C. Baur, J. Chable, J. Kullgren, M. Fichtner, K. Edström, D. Brandell, M. Hahlin
Chem. Materials 31 (2019) 6084-6096
COVER ARTICLE

Hetero-layered MoS2/C composites enabling ultrafast and durable Na storage
Z. Li, S. Liu, B.P. Vinayan, Zh. Zhao-Karger, T. Diemant, R.J. Behm, Rüdiger Klingeler, M. Fichtner
Energy Storage Materials 21 (2019) 115-123

Oxygen activity in Li-rich disordered rock-salt oxide and influence of LiNbO3 surface modification on the electrochemical performance
M. Cambaz, B.P. Vinayan, H. Geßwein, A. Schiele, A. Sarapulova, T. Diemant, A. Mazilkin, T. Brezesinski, R.J. Behm, H. Ehrenberg, and M. Fichtner
Chem. Materials 31,12 (2019) 4330-4340

Monitoring the Electrochemical Energy Storage Processes of an Organic Full Rechargeable Battery via Operando Raman Spectroscopy: A Mechanistic Study
X.-M. Lin, D.-Y. Wu P. Gao, Z. Chen, M. Ruben, and M. Fichtner
Chem. Materials 31,9 (2019) 3239-3247

Towards Improving the Areal Energy Density of Lithium-Sulfur Batteries with Ultramicroporous Carbon-Sulfur (UMC-S) Composite Electrodes
H.M. Joseph, M. Fichtner, M.A. Reddy
Energy Technology (2019) 1900183

MgSc2Se4 – a magnesium solid ionic conductor for all-solid-state Mg batteries
L. Wang, Z. Zhao-Karger, F. Klein, J. Chable, T. Braun, A. R. Schür, C. Wang, Y. Guo, and M. Fichtner
ChemSusChem 12 (2019) 1-9

Unlocking the potential of weberite-type metal fluorides in electrochemical energy storage
H. Euchner, O. Clemens and M. Anji Reddy
npj Computational Materials, Volume 5, Article number: 31 (2019)

New Organic Electrode Materials for Ultrafast Electrochemical Energy Storage
Z. Zhao-Karger, P. Gao, T. Ebert, S. Klyatskaya, Z. Chen, M. Ruben and M. Fichtner
Advanced Materials (2019) 1806599

Introducing Interlayer Electrolytes: Toward Room Temperature High Potential Solid State Rechargeable Fluoride Ion Batteries
I. Mohammad, R. Witter, M. Fichtner, M. Anji Reddy
ACS Applied Energy Materials 2 (2) (2019) 1553-1562

Beyond Intercalation Chemistry for Rechargeable Mg Batteries: A Short Review and Perspective
Z. Zhao-Karger and M. Fichtner
Front. Chem. 6 (2019) 656

Differentiating Molecular and Solid-State Vanadium Oxides as Active Materials in Battery Electrodes
M.H. Anjass, M. Deisböck, S. Greiner, M. Fichtner, C. Streb
ChemElectroChem 6,2 (2019) 398-403

Phase evolution in calcium molybdate nanoparticles as a function of synthesis temperature and its electrochemical effect on energy storage
M. Minakshi, D.R.G. Mitchell, C. Baur, J. Chable, A. J. Barlow, and M. Fichtner
Nanoscale Advances 1 (2019) 565-580
BACKCOVER ARTICLE

A quasielastic and inelastic neutron scattering study of the alkaline and alkaline-earth borohydrides LiBH4, Mg(BH4)2 and the mixture LiBH4+Mg(BH4)2
L. Silvi, Z. Zhao-Karger, E. Röhm, M. Fichtner, W. Petry and W. Lohstroh
Physical Chemistry Chemical Physics 21 (2019) 718-728
2018
Fast multivalent intercalation enabled by solvated Mg2+ ions into self-established metallic layered materials
Z. Li, X. Mu, Zh. Zhao-Karger, T. Diemant, R.J. Behm, Ch. Kübel, and M. Fichtner
Nature Communications 9 (2018) 5115

Differentiating Molecular from Solid-State Vanadium Oxides as Active Materials in Battery Electrodes
M. Anjass, M. Deisböck, S. Greiner, M. Fichtner, C. Streb
ChemElectroChem (2018) DOI: 10.1002/celc.201801406R1

Facile Synthesis of C-FeF2 Nanocomposites from CFx: Influence of Carbon Precursor on Reversible Lithium Storage
M. Anji Reddy, B. Breitung, V.S.K. Chakhravadhanula, M. Helen, R. Witte, C. Rongeat, Ch. Kübel, H. Hahn, and M. Fichtner
RSC Advances 8 (2018) 36802-36811

Insight into Sodium Storage Mechanism in Hard Carbon
M. Anji Reddy, M. Helen, A. Groß, M. Fichtner, and H. Euchner
ACS EnergyLetters 3 (2018) 2851-2857
COVER ARTICLE

Bio-waste chicken eggshells to store energy
M. Minakshi, H. Visbal, D.R.G. Mitchell, and M. Fichtner
Dalton Trans. 47,47 (2018) 16828-16834
COVER ARTICLE

Effect of oxidizer in the synthesis of NiO anchored nanostructure nickel molybdate for sodium metal anode
M. Minakshi, M. Barmi, D.R.G. Mitchell, A. Barlow and M. Fichtner
Materials Today Energy 10 (2018) 1-14

Insight into Sulphur Confined in Ultramicroporous Carbon
M. Helen, T. Diemant, S. Schindler, R.J. Behm, M. Danzer, U. Kaiser, M. Fichtner and M. Anji Reddy,
ACS Omega 3 (2018) 11290-11299

Room Temperature Rechargeable Solid State Fluoride Ion Batteries
I. Mohammad, R. Witter, M. Fichtner, M.A. Reddy
ACS Applied Energy Materials 1,9 (2018) 4766-4775

Towards Highly Reversible Magnesium-sulfur Batteries with Efficient and Practical Mg[B(hfip)4]2 Electrolyte
Z. Zhao-Karger, R. Liu, W. Dai, Z. Li, T. Diemant, B. P. Vinayan, C. Bonatto Minella, X. Yu, A. Manthiram, R.J. Behm, M. Ruben, M. Fichtner
ACS Energy Letters 3 (2018) 2005-2013

New insights into the electrochemistry of magnesium molybdate hierarchical architectures for high performance sodium devices
M. Minakshi, D.R.G. Mitchell, M. Anji Reddy, A. Barlow and M. Fichtner
Nanoscale 10 (2018) 13277-13288

Design of Nickel-Based Cation-Disordered Rock-Salt Oxides: The Effect of Transition Metal (M = V, Ti, Zr) Substitution in LiNi0.5M0.5O2 Binary Systems
M.A. Cambaz, B. P. Vinayan, H. Euchner, R. E. Johnsen, A. A. Guda, Y. V. Rusalev, A. L. Trigub, A. Groß, M. Fichtner
ACS Applied Materials & Interfaces 10,26 (2018) 21957-21964

Performance boost for primary magnesium cells using iron complexing agents as electrolyte additives
D. Hoeche, S.V. Lamaka, B. Vaghefinazari, T. Braun, R.P. Petrauskas, M. Fichtner, M. L. Zheludkevich
Scientific Reports 8 (2018) 7578

Synthesis of Fast Fluoride Ion Conductive Fluorite-type Ba1-xSbxF2+x (0.1 ≤ x ≤ 0.4): A Potential Solid Electrolyte for Fluoride Ion Batteries
I. Mohammad, J. Chable, R. Witter, M. Fichtner, M. Anji Reddy
ACS Applied Materials & Interfaces 10 (2018) 17249-17256

Reversible Delithiation of Disordered Rock Salt LiVO2
Ch. Baur, J. Chable, F. Klein, V.S.K. Chakravadhanula, M. Fichtner
ChemElectroChem 5,11 (2018) 1484-1490

Structure and electrochemical properties of Na2+-xV3P2O13 (x = 0 and 1): a promising cathode material for sodium-ion batteries
M. Anji Reddy, H. Euchner, R. Witter, O. Clemens
J. Mater. Chem. A 6 (2018) 6947

Spectroscopic Investigations on the Mechanism of the Improved Performance of Nanoparticles/ Graphene Sheets Composites as Anode for Lithium Ion Batteries
X.-M. Lin, T. Diemant, X. Mu, P. Gao, R. J. Behm, and M. Fichtner
Carbon 127 (2018) 47-56

Role of hydrogen tanks in the Life Cycle Assessment of fuel cell-based Auxiliary Power Units
A. Agostini, N. Belmonte, A. Masala, JJ Hu, P. Rizzi, M. Fichtner, P. Moretto, C. Luetto, M. Sgroi, M. Baricco
Applied Energy 215 (2018) 1-12

Performance improvement of V-Fe-Cr-Ti solid state hydrogen storage materials in impure hydrogen gas
U. Ulmer, D. Oertel, T. Diemant, Ch. Bonatto Minella, T. Bergfeldt, Roland Dittmeyer, R. J. Behm and M. Fichtner
ACS Materials & Interfaces 10,2 (2018) 1662-1671

Polysulphides formation in different electrolytes from the perspective of X-ray absorption spectroscopy
R. Dominko, G. Aquilanti, I. Arcon, M. Helen, M.A. Reddy, M. Fichtner
Journal of The Electrochemical Society 165,1 (2018) A5014-A5019

Modeling the degradation mechanisms of C6/LiFePO4 Batteries
D. Li, D. L. Danilov, B. Zwikirsch, M. Fichtner, Y. Yang, R.-A. Eichel and P. H. L. Notten
J. Power Sources 375 (2018) 106-117

Electrochemical performance of all solid state fluoride ion batteries based on thin film electrolyte using alternative conductive additives and anodes
L. Zhang, M. Anji Reddy, M. Fichtner
Journal of Solid State Electrochemistry 22,4 (2018) 996-1006
2017
Magnesium–sulfur battery: its beginning and recent progress
Z. Zhao-Karger and M. Fichtner
MRS Communications 7,4 (2017) 770-784

Porphyrin complex as self-conditioned electrode material for high performance energy storage
P. Gao, Z. Chen, Zh. Zhao-Karger, J.E. Mueller, Ch. Jung, S. Klyatskaya, T. Diemant, O. Fuhr, T. Jacob, R.J. Behm, M. Ruben, M. Fichtner
Angew. Chemie Int. Ed. 129 (2017) 1-7

Li-Mg Hybrid battery with Vanadium Oxychloride as Electrode Material
C. Bonatto Minella, P. Gao, Z. Zhao-Karger, T. Diemant, R. J. Behm, M. Fichtner
ChemistrySelect 2 (2017) 7558-7564

Metal-semiconductor core-shell nanomaterials for energy applications
R. Nagar, B.P. Vinayan
Metal Semiconductor Core-shell Nanostructures for Energy and Environmental Applications, Pages 99-132

Tri-iodide reduction activity of ultra-small size PtFe nanoparticles supported nitrogen-doped graphene as counter electrode for dye-sensitized solar cell
D. Nechiyil , B.P. Vinayan, S. Ramaprabhu
Journal of Colloid and Interface Science 88 (2017) 309-316

A Novel Conversion Anode Composite for Lithium Ion Batteries Based on MnF2/Carbon Nanotubes with Hierarchical Structure
L. Zhang, M. Anji Reddy, X.M. Lin, Z. Zhao-Karger, P. Gao, M. Fichtner
J. Alloys Compd. 724 (2017) 1101-1108

Study of the Structural, Thermodynamic and Cyclic Effects of Vanadium and Titanium Substitution in Laves-Phase AB2 Hydrogen Storage Alloys
U. Ulmer, M. Dieterich, A. Pohl, R. Dittmeyer, M. Linder, and M. Fichtner
Int. J. Hydrogen Energy 42,31 (2017) 20103-20110

Li-Mg-N-H Hydrogen Storage Materials for an Auxiliary Power Unit
J.J. Hu, M. Barricco, M. Fichtner
Int. J. Hydrogen Energy 42,27 (2017) 17144-17148

Chloride Ion Battery Review: Theoretical Calculations, State of the Art, Safety, Toxicity, and an outlook towards future developments
F. Gschwind, H. Euchner, G. Rodriguez-Garcia
Eur. J. Inorg. Chemistry (2017) 2784-2799

New class of non-corrosive, highly efficient electrolytes for rechargeable magnesium batteries
Zh. Zhao-Karger, E.G. Bardaji, Olaf Fuhr, and M. Fichtner
J. Materials Chem. A 5 (2017) 10815-10820
COVER ARTICLE

CuF2 as Reversible Cathode for Fluoride Ion Batteries
D. Tho Thieu, M. Hammad Fawey, H. Bhatia, T. Diemant, V. S. K. Chakravadhanula, R. J. Behm, Ch. Kübel, and M. Fichtner
Adv. Func. Materials (2017) 1701051
COVER ARTICLE

LaSrMnO4: Reversible Electrochemical Intercalation of Fluoride Ions in the Context of Fluoride Ion Batteries
M. Ali Nowroozi, K. Wissel, J. Rohrer, Anji Reddy M., and O. Clemens
Chem. Mater. 29 (2017) 3441 - 3453
COVER ARTICLE

Conductivity optimization of tysonite-type La1-xBaxF3-x solid electrolyte for advanced Fluoride Ion Battery
H. Bhatia, D. Tho Thieu, V. S. K Chakravadhanula, M.H. Fawey, A. Pohl, Ch. Kübel, M. Fichtner
ACS Applied Materials & Interfaces 9,28 (2017) 23707-23715

Interlayer-Expanded VOCl as Electrode Material for Magnesium-Based Batteries
C. Bonatto Minella, P. Gao, Z. Zhao-Karger, X. Mu, T. Diemant, Maxim Pfeifer, V. S. K. Chakravadhanula, J. R. Behm, M. Fichtner
ChemElectroChem 4 (2017) 738-745

SSH2S: hydrogen storage in complex hydrides for an auxiliary power unit based on high temperature polymeric fuel cells
M. Baricco, B. Hauback, M. Fichtner, M. Linder, C. Luetto, M. Bang, M. Sgroi, P. Moretto
J. Power Sources 342 (2017) 853-860

Study of all solid-state rechargeable fluoride ion batteries based on thin-film electrolyte
L. Zhang, M. Anji Reddy, P. Gao, T. Diemant, R.J. Behm, M. Fichtner
J. Solid State Electrochem. 21 (2017) 1243-1251

Konzept zur Chemischen Wärmespeicherung mit flüssigen organischen Hydriden - Concept for chemical heat storage using liquid organic hydrogen carriers
Ch. Wagner, M. Cholewa, U. Ulmer, D. Poncette, A. Patyk, M. Fichtner, R. Dittmeyer, P. Pfeifer
Chemie-Ingenieur-Technik 89,3 (2017) 341-345
2016
Facile Preparation of Chloride-Conducting Membranes: First Step towards a Room-Temperature Solid-State Chloride-Ion Battery
F. Gschwind, D. Steinle, D. Sandbeck, C. Schmidt, E. von Hauff
ChemistryOpen 5 (2016) 525-530

Simple One-Pot Syntheses and Characterizations of Free Fluoride- and Bifluoride-Containing Polymers Soluble in Non-Aqueous Solvents
D. Steinle, L. Dietrich, N. Bevilacqua, E. von Hauff, F. Gschwind
Materials 9,12 (2016) 965

Vanadium and Chromium Molecular Cluster Batteries (MCB): Li- Storage in Transition Metal Complexes
J. Rinck, B. Das and M. Fichtner
ECS Meeting Abstracts 3 (2016) 246

Nitrogen rich hierarchically organized porous carbon/sulfur composite cathode electrode for high performance Li/S battery: A mechanistic investigation by operando spectroscopic studies
B.P. Vinayan, T. Diemant, X.-M. Lin, M.A. Cambaz, U. Kaiser, U. Golla-Schindler, R.J. Behm, M. Fichtner
Advanced Materials Interfaces (2016) DOI: 10.1002/open.201600109
COVER ARTICLE

Electrochemical behaviour of layered vanadium oxychloride in rechargeable lithium ion batteries
P. Gao, X. Lin, M. Anji Reddy, L. Zhang, T. Diemant, R. J. Behm, and M. Fichtner
J. Electrochem. Soc. 163,10 (2016) A2326-A2332

Development of dense thin-film electrolyte for fluoride ion batteries
L. Zhang, M. Anji Reddy, P. Gao, M. Fichtner
J. Alloys Compd. 684 (2016) 733 – 738

Selenium and selenium-sulfur based cathode materials for rechargeable magnesium batteries
Zh. Zhao-Karger, X. Lin, Ch. Bonatto Minella, D. Wang, T. Diemant, R. J. Behm and M. Fichtner
J. Power Sources 323 (2016) 213-219

Thermochemical Energy Storage through De/Hydrogenation of Organic Liquids: Reactions of Organic Liquids on Metal Hydrides
U. Ulmer, M. Cholewa, T. Diemant, Ch. Bonatto Minella, Roland Dittmeyer, R. J. Behm and M. Fichtner
ACS Materials & Interfaces 18 (2016) 14323-14332

Hydrogen dynamics in β-Mg(BH4)2 on the picosecond timescale
L. Silvi, E. Röhm, M. Fichtner, W. Lohstroh, and W. Petry
Phys. Chem. Chem. Phys. (2016)

Vanadium oxyfluoride/few layer graphene composite as high performance cathode material for lithium batteries
M. A. Cambaz, Vinayan B.P., O. Clemens, M. Anji Reddy, VSK Chakravadhanula, Ch. Kübel, M. Fichtner
Inorg. Chemistry 55 (2016) 3789-3796

In situ TEM studies of micron-sized all-solid-state Fluoride ion batteries: Preparation, Prospects and Challenges
M. Hammad, V. S. K. Chakravadhanula, A. R. Munnangi, C. Rongeat, T. Scherer, H. Hahn, M. Fichtner, Ch. Kübel
Microscopy Research and Technique (2016) DOI: 10.1002/jemt.22675

Phase-structural transformations in a metal hydride battery anode La1.5Nd0.5MgNi9 alloy and its electrochemical performance
A.A. Volodin, Chubin Wan, R.V. Denys, G.A. Tsirlina, B.P. Tarasov, M. Fichtner, U. Ulmer, Yingda Yu, C.C. Nwak, V.A. Yartys
International Journal of Hydrogen Energy 41,23 (2016) 9954-9967

Development of a water based process for stable conversion cathodes on the basis of FeF3
A. Pohl, M. Faraz, A. Schroeder, M. Baunach, W. Schabel, A. Guda, V. Shapovalov, A. Soldatov, V.S.K. Chakravadhanula, C. Kübel, R. Witte, H. Hahn, T. Diemant, R.J. Behm, H. Emerich, M. Fichtner
Journal of Power Sources 313 (2016) 213-222

VOCl as Cathode for Rechargeable Chloride Ion Batteries
P. Gao, M. Anji Reddy, X. Mu, T. Diemant, L. Zhang, Z. Zhao-Karger, V.S.K. Chakravadhanula, O. Clemens, J. Behm, and M. Fichtner
Angew. Chemie Int. Ed. 53 (2016) 4285-4290
HIGHLIGHTED in NATURE ENERGY 1, 7 April, 2016, 16044–16047

Facile Synthesis of Carbon-Metal Fluoride Nanocomposites for Lithium Batteries
M. Anji Reddy, B.Breitung, C. Wall, Sh. Trivedi, V. S. K. Chakravadhanula, M. Helen and M. Fichtner
Energy Technology 4 (2016) 201-211
COVER ARTICLE

Fluoride ion batteries: Theoretical performance, safety, toxicity, and a combinatorial screening of new electrodes
F. Gschwind, G. Rodriguez-Garcia, D.J.S. Sandbeck, A. Gross, M. Weil, M. Fichtner, N. Hörmann
J. Fluorine Chemistry 182 (2016) 76-90
MOST DOWNLOADED ARTICLE

Mechanical milling assisted synthesis and electrochemical performance of high capacity LiFeBO3 for Li-Ion Batteries
M. A. Cambaz, M. Anji Reddy, Vinayan B.P., R. Witte, A. Pohl, X. Mu, VSK Chakravadhanula, Ch. Kübel, M. Fichtner
ACS Materials and Interfaces 8,3 (2016) 2166–2172

Performance study of magnesium–sulfur battery using a graphene based sulfur composite cathode electrode and a non-nucleophilic Mg electrolyte
B. P. Vinayan, Z. Zhao-Karger, T. Diemant, N. I. Schwarzburger, M.A. Cambaz, R.J. Behm, Ch. Kuebel, M. Fichtner
Nanoscale 8 (2016) 3296
BACKCOVER ARTICLE
2015
Entwicklung der nächsten Speichergeneration für mobile und stationäre Anwendungen
D. Oertel, D. Messling und M. Fichtner
Technikfolgenabschätzung – Theorie und Praxis 24. Jg., Heft 3, Dezember 2015 (in German)

Vanadium oxychloride as electrode material for sodium ion batteries
P. Gao, C. Wall, L. Zhang, M. Anji Reddy, M. Fichtner
Electrochem. Commun. 60 (2015) 180-184

Cost reduction possibilities of vanadium-based solid solutions – Microstructural, thermodynamic, cyclic and environmental effects of ferrovanadium substitution
U. Ulmer, K. Asano, A. Patyk, H. Enoki, Y. Nakamura, A. Pohl, R. Dittmeyer, and M. Fichtner
J. Alloys Compd. 648 (2015) 1024-1030

Carbon-Nanofibers Encapsulated Metal Oxide Nanocomposite and Its Application as Conversion Anode Material for Lithium Ion Batteries
S. Ren, X. Zhao, R. Chen, M. Fichtner
ECS Transactions 64,22 (2015) 155-164

Fluorescence X-Ray Absorption Study of ScCl3 doped Sodium Alanate
A. Léon, N. Finck, J. Rothe, M. Felderhoff, M. Fichtner
J. Phys. Chem. C, 2015, 119 (28), pp 15810–15815

Materials for sustainable energy production, storage, and conversion; Editorial
M. Fichtner
Beilstein J. Nanotechnol. 6 (2015) 1601-1602

Single step transformation of sulphur to Li2S2/Li2S in Li-S batteries
M. Helen, M. Anji Reddy, T. Diemant, U. Golla-Schindler, R. J. Behm, and M. Fichtner
Scientific Reports 5 (2015) 12146

Disordered Rock-Salt Li2VxCr1-xO2F as High-performance Intercalation Cathodes for Enhanced Li+ Storage
S. Ren, R. Chen, E. Maawad, O. Dolotko, A. A. Guda, D. Wang, H. Hahn and M. Fichtner
Advanced Science 2,6 (2015) 1500128

Li+ Intercalation in Isostructural Disordered Rocksalt Li2VO3 and Li2VO2F with Mono O2- and Dual O2-/F- Anions
R. Chen, S. Ren, M. Yavuz, A. A. Guda, R. Witter, M. Fichtner, and H. Hahn
Phys. Chem. Chem. Phys. 17 (2015) 17288-17295

Disordered Lithium-Rich Oxyfluoride as Promising Intercalation Cathode for Lithium-Ion Batteries
R. Chen, Shuhua Ren, M. Knapp, D. Wang, R. Witter, M. Fichtner, and H. Hahn
Advanced Energy Materials 5,9 (2015) 1401814
COVER ARTICLE

Magnesium Sulphide as Anode Material for Lithium-Ion Batteries
M. Helen and M. Fichtner
Elecctrochimica Acta 169 (2015) 150-185

Parametric Investigation of Room-temperature Fluoride-ion Batteries: Assessment of Electrolytes, Mg-based Anodes, and BiF3-Cathodes
F. Gschwind and J. Bastien
J. Mater. Chem. A 3 (2015) 5628-5634

Development of tysonite-type thin film electrolytes for fluoride ion conduction
L. Zhang, M. Anji Reddy, M. Fichtner
Solid State Ionics 272 (2015) 239-244

Synthesis of highly nitrogen doped 2D – 1D hybrid carbon nanomaterial using MnO2 nanorods template for high performance Li-ion battery application
V. B. Parambath, N. Schwarzburger, M. Fichtner
J. Mater. Chem. A 3 (2015) 6810-6815
BACKCOVER ARTICLE

Hydrogen Diffusion in La1.5Nd0.5MgNi9 Alloy Electrodes of the Ni/MH Battery
A.A. Volodin, R.V. Denys, G.A. Tsirlina, B.P. Tarasov, M. Fichtner, V.A. Yartys
J. Alloys Compd. 645 (2015) S288-S291

On the rehydrogenation of decomposed Ca(BH4)2
M. D. Riktor, M. H. Sørby, J. Muller, E. G. Bardají, M. Fichtner, B. C. Hauback
J. Alloys and Compounds 632 (2015) 800-804

Magnesium sulfur battery with improved non-nucleophilic electrolyte
Zh. Zhao-Karger, X. Zhao, D. Wang, T. Diemant and M. Fichtner
Adv. Energy Mater. 5,3 (2015) 1401155
COVER ARTICLE
2014
A Simple Synthesis of MnN0.43∂C Nanocomposite: Characterization and Application as Battery Material
B. Milke, C. Wall, S. Metzke, M. Fichtner, C. Giordano
Journal of Nanoparticle Research 16 (2014) 2795

Vanadium Oxychloride/Magnesium Electrode Systems for Chloride Ion Batteries
P. Gao, X. Zhao, Zh. Zhao-Karger, Th. Diemant, R. J. Behm, and M. Fichtner
ACS Applied Materials & Interfaces 6,24 (2014) 22430-22435

Corrosion Resistance of Current Collector Materials in Bisamide Based Electrolyte for Magnesium Batteries
C. Wall, Zh. Zhao-Karger, and M. Fichtner
ECS Electrochemistry Letters 4 (1) (2014) C8-C10

Effect of oxygen on the microstructure and hydrogen storage properties of V-Ti-Cr-Fe quaternary solid solutions
U. Ulmer, K. Asano, Th. Bergfeldt, V.S.K. Chakravadhanula, R. Dittmeyer, H. Enoki, Ch. Kübel, Y. Nakamura and M. Fichtner
Int. J. Hydrogen Energy 39,35 (2014) 20000-20008

Electrochemical fluorination of perovskite type BaFeO2.5
O. Clemens, C. Rongeat, M. Anji Reddy, M. Fichtner, H. Hahn
Dalton Transactions 43, 42 (2014) 15771-15778

Development of New Anode Composite Materials for Fluoride Ion Batteries
C. Rongeat, M. A. Reddy, T. Diemant, R. J. Behm and M. Fichtner
J. Materials Chemistry A 2,48 (2014) 20861 - 20872

Magnesium anode for chloride ion batteries
X. Zhao, Q. Li, Zh. Zhao-Karger, P. Gao, K. Fink, and M. Fichtner
ACS Applied Materials & Interfaces 6,14 (2014) 10997-11000

LiF/Fe/V2O5 nanocomposite as high capacity cathode for lithium ion batteries
B. Das, A. Pohl, V.S.K. Chakravadhanula, C. Kübel, and M. Fichtner
J. Power Sources 267 (2014) 203-211

Nanomilling of lithium fluoride in a planetary ball-mill
C. Wall, A. Pohl, M. Knapp, H. Hahn, and M. Fichtner
Powder Technol. 264 (2014) 409-417

Novel transmetalation reaction for electrolyte synthesis for rechargeable magnesium batteries
Z. Zhao-Karger, J.E. Mueller, Olaf Fuhr and M. Fichtner
RSC Advances 4 (2014) 26924–26927

Material properties and empirical rate equations for hydrogen sorption reactions in 2 LiNH2 - 1.1 MgH2 - 0.1 LiBH4 - 3 wt.% ZrCoH3
I. Bürger, J.J. Hu, J. G Vitillo, G. N. Kalantzopoulos, S. Deledda, M. Fichtner; M. Baricco, M. Linder
Int. J. Hydrogen Energy 39,16 (2014) 8283-8292

Reversible In Situ TEM Electrochemical studies of Fluoride Ion Battery
V.S.K. Chakravadhanula, M. H. Fawey, Ch. Kübel, T. Scherer, C. Rongeat, M. Anji Reddy, M. Fichtner, Horst Hahn
Microsc. Microanal. 20, 3 (2014) 1620-1621

A facile synthesis of encapsulated CoFe2O4 into carbon nanofibers and its application as conversion anodes for lithium ion batteries
Sh. Ren, X. Zhao, R. Chen, and M. Fichtner
J. Power Sources 260 (2014) 205-210

Effect of NaH/MgB2 ratio on the hydrogen absorption kinetics of the system NaH+MgB2
C. Pistidda, D. Pottmaier, F. Karimi, S. Garroni, A. Rzeszutek, M. Tolkien, M. Fichtner, W. Lohstroh, M. Baricco, Th. Klassen, M. Dornheim
Int. J. Hydrogen Energy 39 (2014) 5030-5036

Oxidation state and local structure of a high capacity LiF/Fe(V2O5) conversion cathode for Li-ion batteries
A. Pohl, A. Guda, V. Shapovalov, R. Witte, B. Das, F. Scheiba, J. Rothe, A. Soldatov, H. Hahn, and M. Fichtner
Acta Materialia 68 (2014) 179-186

Fluoride-doped PEG matrix as an electrolyte for anion transportation in a room-temperature fluoride ion battery
F. Gschwind, Z. Zhao-Karger and M. Fichtner
J. Materials Chemistry A 2 (2014) 1214 - 1218
Backcover Article

Solid Electrolytes for Fluorides Ion Batteries: Ionic Conductivity in Polycrystalline Tysonite-type Fluorides
C. Rongeat , M. Anji Reddy , R. Witter , and M. Fichtner
ACS Applied Materials & Interfaces 6,3 (2014) 2103-2110

Beneficial effects of stoichiometry and nanostructure for LiBH4-MgH2 hydrogen storage system
J.J. Hu, R. Witter, H. Shao, M. Felderhoff, M. Fichtner
J. Mater. Chem. A 2 (2014) 66-72

Chloride ion battery: a new member in the rechargeable battery family
X. Zhao, Sh. Ren, M. Bruns, M. Fichtner
J. Power Sources 245 (2014) 706-711

Lithium Insertion in Micrometer Sized Rutile TiO2 at Room Temperature: Facilitated by Crystal Chemical Substitution
M. Anji Reddy and U. V. Varadaraju
Journal of The Electrochemical Society, 161 (1) (2014) A149-A153
2013
Facile synthesis of a carbon encapsulated Fe3O4 nanocomposite and its performance as anode in lithium-ion batteries
R. Prakash, K. Fanselau, Sh. Ren, T. K. Mandal, Ch. Kübel, H. Hahn and M. Fichtner
Beilstein J. Nanotech. 4 (2013) 699-704

Metal oxychlorides as cathode material for chloride ion batteries
X. Zhao, Zh. Zhao-Karger, D. Wang, and M. Fichtner
Angew. Chemie Int. Ed. 52 (2013) 13621-13624

Improving the energy density and power density of CFx by mechanical milling: a primary lithium battery electrode
M. Anji Reddy, B. Breitung, and M. Fichtner
ACS Applied Materials & Interfaces 5, 21 (2013) 11207-11211

Influence of particle size and fluorination ratio of CFx precursor compounds on the electrochemical performance of C-FeF2 nanocomposites for reversible lithium storage
B. Breitung, M. Anji Reddy, V.S.K. Chakravadhanula, M. Engel, Ch. Kübel, A. K. Powell, H. Hahn, M. Fichtner
Beilstein J. Nanotechnology 4 (2013) 705-713

Ge-Cu nanoparticle produced by inert gas condensation and its application as anode material for lithium ion batteries
X. Zhao, Ch. Wang, D. Wang, H. Hahn, M. Fichtner
ELECTROCHEM. COMM. 35 (2013) 116-11

Konversionsmaterialien für die Energiespeicherung
M. Fichtner
CHEMIE IN UNSERER ZEIT 47 (2013) 230-238

Bisamide based Non-nucleophilic Electrolytes for Rechargeable Magnesium Batteries
Zh. Zhao-Karger, X. Zhao, O. Fuhr and M. Fichtner
RSC ADVANCES 3 (2013) 16330-16335

TEM Investigations on FeF2 based Nanocomposite Battery Materials
V.S.K. Chakravadhanula, Ch. Kübel, M. Anji Reddy, B. Breitung, A. K. Powell, M. Fichtner, and Horst Hahn
Microsc. Microanal. 19, 2 (2013) 1524-1525

CFx Derived Carbon-FeF2 Nanocomposites for Reversible Lithium Storage
M. Anji Reddy, B. Breitung, V.S.K. Chakravadhanula, C. Wall, M. Engel, C. Kübel, A.K. Powell, H. Hahn and M. Fichtner
ADV. ENERGY MATER. 3 (2013) 274
Cover Article & Top 10 Article in 12/2012

Nanostructured Fluorite-type Fluorides as Electrolyte for Fluoride Ion Batteries
C. Rongeat, M. Anji Reddy, R. Witter, M. Fichtner
J. PHYS. CHEM C 117 (2013) 4943-4950

Altered reaction pathways of eutectic LiBH4–Mg(BH4)2 by nanoconfinement
Zh. Zhao-Karger, R. Witter, E.G. Bardají, D. Wang, D. Cossement and M. Fichtner
J. MATER. CHEM. A 1 (2013) 3379-3386

Preparation, scale-up and testing of nanoscale, doped amide systems for hydrogen storage
U. Ulmer, J.J. Hu, M. Franzreb and M. Fichtner
INT. J. HYD. ENERGY 38 ( (2013) 1439-1449
Temperature tolerance study of high performance electrochemically gated SnO2 nanowire field-effect transistors
B. Nasr, Zh. Zhao-Karger, D. Wang, R. Kruk, H. Hahn and S. Dasgupta
J. Materials Chem. C 1 (2013) 2534-2539
Synthesis and electrochemical performance of nanocrystalline Al0.4Mg0.2Sn0.4O1.6 and Al0.25Mg0.38Sn0.38O1.5 investigated by in situ XRD, 27Al/119Sn MAS NMR, 119Sn Mössbauer spectroscopy, and galvanostatic cycling.
Issac, I.; Heinzmann, R.; Kaus, M.; Zhao-Karger, Z.; Gesswein, H.; Bergfeldt, T. ; Chakravadhanula, V.S.K.; Kübel, C.; Hahn, H.; Indris, S.
Journal of Materials Chemistry A, 1(2013) S.13842-13852

2012
Influence of Nanoconfinement on Reaction Pathways of Complex Metal Hydrides
Z. Zhao-Karger, R. Witter, E.G. Bardají, D. Wang, D. Cossement, M. Fichtner
ENERGY PROCEDIA 29 (2012) 731-737

Catalytic Influence of Various Cerium Precursors on the Hydrogen Sorption Properties of NaAlH4
J.J. Hu, R. Witter, Sh. Ren, and M. Fichtner
ADV. ENERGY MATER. 2 (2012) 560-568
Cover Article

Synthesis of nanocrystalline solid solutions AlySn12yO22y/2 ( y = 0.57, 0.4) investigated by XRD, 27Al/119Sn MAS NMR, and Mössbauer spectroscopy
I. Issac, R. Heinzmann, S.M. Becker, T. Bräuniger, Z. Zhao-Karger, C. Adelhelm, V.S.K. Chakravadhanula, C. Kuebel, A. Ulrich and S. Indris
RSC Advances 2 (2012) 10700-10707

Fabrication of porous rhodium nanotube catalysts by electroless plating
F. Muench, C. Neetzel, S. Kaserer, J. Brötz, J.-C. Jaud, Z. Zhao-Karger, S. Lauterbach, H.-J. Kleebe, C. Roth and W. Ensinger
J. MATER. CHEM. 22 (2012) 12784-12791

Influence of the crystal structure of bulk phase on the stability of nanoscale phases: Investigation of MgH2 derived nanostructures
P. Vajeeston, P. Ravindran, M. Fichtner, H. Fjellvåg
J. Phys. Chem. C 116, 35 (2012) 18965-18972

Additive Effects of LiBH4 and ZrCoH3 on the hydrogen sorption of the Li-Mg-N-H hydrogen storage system
J.J. Hu, A. Pohl, Sh. Wang, J. Rothe, and M. Fichtner
J. PHYS. CHEM. C 116 (2012) 20246-20253

Fe3O4-anchored helical carbon nanofibers as high performance anode in lithium ion batteries
S. Ren, R. Prakash, D. Wang, V.S.K. Chakravadhanula, M. Fichtner
CHEMSUSCHEM 5 (2012) 1397

Hydrogen-storage materials dispersed into nanoporous substrates studied through incoherent inelastic neutron scattering
D. Colognesi, M. Zoppi, T. Ramirez-Cuesta, M. Fichtner, E.G. Bardají, Zh. Zhao-Karger
J. ALLOYS COMPD. 538 (2012) 91-99

Effect of a Ti-based additive on the desorption in isotope labeled LiB(H,D)4-Mg(H,D)2 nanocomposites
N. Boucharat, D. Wang, E.G. Bardají, Zh. Zhao-Karger, M. Fichtner, W. Lohstroh
J. PHYS. CHEM. C 116 (2012) 11877-11885

Effects of Ce-Based Dopants on the Hydrogen Storage Material NaAlH4
J.J. Hu, R. Witter, Sh. Ren, and M. Fichtner
MATER. RES. SOC. SYMP. PROC. Vol. 1441 (2012) 6-12

Influence of nanoconfinement on morphology and dehydrogenation of the Li11BD4-Mg(11BD4)2 system
S. Sartori, K.D. Knudsen, F. S. Hage, R.H. Heyn, E.G. Bardaji, Zh. Zhao-Karger, M. Fichtner, B.C. Hauback
NANOTECHNOLOGY 23 (2012) 255704

Synthesis of [Co/LiF/C] nanocomposite and its application as cathode in lithium-ion batteries
C. Wall, R. Prakash, Ch. Kübel, H. Hahn and M. Fichtner
J. ALLOYS COMPD. 530 (2012) 121-126.

Small-angle scattering investigations on nanoconfined sodium alanate for hydrogen storage applications
S. Sartori, K. D. Knudsen, A. Roth, M. Fichtner, B. C. Hauback
NANOSCIENCE AND NANOTECHNOLOGY LETTERS 4 (2012) 173-177.

Synthesis and characterisation of a mesoporous carbon/calcium borohydride nanocomposite for hydrogen storage
A. Ampoumogli, Th. Steriotis, P. Trikalitis, E. Gil Bardaji, M. Fichtner, A. Stubos, G. Charalambopoulou
INT. J. HYD. ENERGY 37,21 (2012) 16631-16635

Experimental study of powder bed behavior of sodium alanate in a lab-scale H2 storage tank with flow-through mode
I. Utz, M. Linder, J. J. Hu, M. Fichtner, N. Schmidt, A. Wörner
INT. J. HYD. ENERGY 37,9 (2012) 7645-7653

Tailored heat transfer characteristics of pelletized LiNH2-MgH2 and NaAlH4 hydrogen storage materials
C. Pohlmann, L. Röntzsch, JJ Hu, Th. Weißgärber, B. Kieback and M. Fichtner
JOURNAL OF POWER SOURCES 205 (2012) 173-179

Hindered rotational energy barriers of BH4- tetrahedra in β-Mg(BH4)2 from quasielastic neutron scattering and DFT calculations
D. Blanchard, M. D. Riktor, H. S. Jacobsen, J. B. Maronsson, J. Kheres, D. Sveinbjorsson, E. Gil Bardají, A. Léon, F. Juranyi, J. Wuttke, K. Lefmann, B. C. Hauback, M. Fichtner and T. Vegge
JOURNAL OF PHYSICAL CHEMISTRY C 116, 2 (2012) 2013-2023
2011
Novel batteries based on fluoride shuttle
M. Anji Reddy and M. Fichtner
J. MATER. CHEM. 21, 17059 (2011)
Cover Article
& Highlight Article

Nanoconfinement effects in energy storage materials
M. Fichtner
PHYS. CHEM. CHEM. PHYS. 13, 21186 (2011)
Perspective Article
& Top 10 Article

Conversion materials for hydrogen storage and electrochemical applications - concepts and similarities
M. Fichtner
J. ALLOYS COMPD. 509S, S529-S534(2011)

Nanocrystalline Ti2/3Sn1/3O2 as Anode Material for Li-Ion Batteries
Ibrahim Issac, Marco Scheuermann, Sebastian M. Becker, Elisa Gil Bardaji, Christel Adelhelm, Di Wang, Christian Kübel, Sylvio Indris
JOURNAL OF POWER SOURCES 196 (22) 9689-9695 (2011)

On the decomposition of the 0.6 LiBH4-0.4 Mg(BH4)2 eutectic mixture for hydrogen storage
A. Nale, M. Catti, E.G. Bardají, M. Fichtner
INT. J. HYD. ENERGY 36 (12) 13676-13682 (2011)
27Al, 23Na and 45Sc solid-state NMR studies of ScCl3-doped NaAlH4
M. Verkuijlen, P. van Bentum, O. Zabara, M. Fichtner, A. Kentgens
J. PHYS. CHEM. C 115 (26) 13100-13006 (2011)

Effect of several metal chlorides on the thermal decomposition behaviour of a-Mg(BH4)2
E.G. Bardají, N. Hanada, O. Zabara and M. Fichtner
INT. J. HYD. ENERGY 36, 12313-12318 (2011)

Raman and Inelastic Neutron Scattering Study on a Melt-Infiltrated Composite of NaAlH4 and Nano-Porous Carbon
D. Colognesi, A. Giannasi, L. Ulivi, M. Zoppi, J. Ramirez-Cuesta, A. Roth, and M. Fichtner
J. PHYS. CHEM. A 115, 26, 7502-7510 (2011)

Feasibility and Performance of the Mixture of MgH2 and LiNH2 (1:1) as a Hydrogen Storage Material
J. J. Hu, E. Roehm, and M. Fichtner
ACTA MATERIALIA 59, 5821–5831 (2011)

Structure and thermodynamic properties of the NaMgH3 perovskite: a comprehensive study
D. Pottmaier, E. R. Pinatel, J. G. Vitillo, S. Garroni, M. Orlova, M. D. Baro, G. Vaughan, M. Fichtner, W. Lohstroh, M. Baricco
CHEMISTRY OF MATERIALS 23, 9, 2317-2326 (2011)

Polarization dependent Raman spectroscopy of LiBH4 single crystals and Mg(BH4)2 powders
F. Gebert, B. Willenberg, M.J. van Setten, E. G. Bardají, M. Fichtner and J. Schoenes
J. RAMAN SPECTROSCOPY 42, 9, 1796-1801 (2011)

The crystal structure of the first borohydride borate, Ca3(BD4)3(BO3)
M. D. Riktor, Y. Filinchuk, P. Vajeeston, E. G. Bardají, M. Fichtner, H. Fjellvåg, M. H. Sørby and B. C. Hauback
J. MATER. CHEM. 21, 7188-7193 (2011)

LiBH4−Mg(BH4)2: A Physical Mixture of Metal Borohydrides as Hydrogen Storage Material
E.G. Bardaji, Zh. Zhao-Karger, N. Boucharat, A. Nale, M.J. van Setten, E. Röhm, W. Lohstroh, M. Catti, and M. Fichtner
J. PHYS. CHEM. C 115, 13, 6095-6101 (2011)

Modified synthesis of [Fe/LiF/C] nanocomposite, and its application as conversion cathode material in lithium batteries
R. Prakash, C. Wall, A.K. Mishra, Ch. Kübel, M. Ghafari, H. Hahn and M. Fichtner
J. POWER SOURCES 196, 5936-5944 (2011)

Hydrogen sensing with diameter and chirality sorted carbon nanotubes
M. Ganzhorn, A. Vijayaraghavan, S. Dehm, F. Hennrich, A. A. Green, M. Fichtner, A. Voigt, M. Rapp, H. v. Löhneysen, M. C. Hersam, M.M. Kappes, R. Krupke
ACS NANO 5, 1670-1676 (2011)

Carbon encapsulated-iron lithium fluoride nanocomposite as high cyclic stability cathode material in lithium batteries
R. Prakash, C. Kübel, M. Fichtner
CERAMIC TRANSACTIONS 224, 173-181 (2011)

Experimental results of an air-cooled lab-scale H2 storage tank based on sodium alanates
I. Utz, N. Schmidt, A. Wörner, JJ. Hu, O. Zabara, M. Fichtner
INTERN. J. HYD. ENERGY 36, 3556-3665 (2011)

Nanostructured composites of mesoporous carbons and boranates as hydrogen storage materials
A. Ampoumogli, Th. Steriotis, P. Trikalitis, D. Giasafaki, E. Gil Bardaji, M. Fichtner and G. Charalambopoulou
J. ALLOYS COMPD. 509S, S705-S708 (2011)

Hydrogen release and structural transformations of the LiNH2-MgH2 system
D. Pottmaier, F. Dolci, M. Orlova, W. Lohstroh, G. Vaughan, M. Fichtner, and M. Baricco
J. ALLOYS. COMPD. 509S, S719-S723 (2011)

Temperature behavior of the AlH3 polymorph by in-situ investigation using high resolution Raman scattering
A. Giannasi, D. Colognesi, M. Fichtner, E. Röhm, L. Ulivi, C. Ziparo, M. Zoppi
J. PHYS. CHEM. A 115, 691-699 (2011)

Magnesium imide: synthesis and structure determination of an unconventional alkaline earth imide from decomposition of magnesium amide.
F. Dolci, E. Napolitano, E. Weidner, S. Enzo, P. Moretto, M. Brunelli, T. Hansen, M. Orlova, M. Fichtner, W. Lohstroh
INORG. CHEM. 50, 1116–1122 (2011).

Experimental evidence of librational vibrations determining the stability of calcium borohydride
A. Borgschulte, R. Gremaud, A. Züttel, A. Remhof, A. J. Ramirez-Cuesta, K. Refson, E. G. Bardaji, W. Lohstroh, M. Fichtner, and H. Hageman
PHYS. REV. B 83, 024102 (2011)
2010
Pressure Effect on the 2NaH + MgB2 Hydrogen Absorption Reaction
C. Pistidda, S. Garroni, G. Barkhordarian, Ch. Bonatto Minella, F. Dolci, T. Jensen, P. Nolis, U. Bösenberg, Y. Cerenius, W. Lohstroh, M. Fichtner, M.D. Baró, R. Bormann, M. Dornheim
JOURNAL OF PHYSICAL CHEMISTRY C 114, 21816–21823 (2010)

LaF3-BaF2-KF derived electrolyte in solid state fluoride-ion battery
Dechao Wang, M. Anji Reddy, H. Hahn, M. Fichtner
MATER. RES. SOC. SYMP. PROC. Vol. 1266, CC05-07 (2010).

Rotational and diffusional dynamics in calcium borohydride from DFT and quasi elastic neutron scattering
D. Blanchard, M. D. Riktor, H. S. Jacobsen, J. B. Maronsson, J. Kheres, D. Sveinbjorsson, E. Gil Bardají, A. Léon, F. Juranyi, J. Wuttke, B. C. Hauback, M. Fichtner and T. Vegge
JOURNAL OF PHYSICAL CHEMISTRY C 114 (2010) 20249-20257

Molecular vibrations as the origin of solid state effects in borohydrides
A. Borgschulte, R. Gremaud, F. Buchter, Z. Lodziana, A. Züttel, A. J. Ramirez-Cuesta, E. G. Bardaji, W. Lohstroh and M. Fichtner
MATERIALS RESEARH SOCIETY SYMPOSIUM PROCEEDINGS 1216, 31-36 (2010)

In-situ neutron diffraction study of magnesium amide/lithium hydride stoichiometric mixtures with lithium hydride excess
F. Dolci, E. Weidner, M. Hoelzel, Th. Hansen, P. Moretto, C. Pistidda, M. Brunelli, M. Fichtner, W. Lohstroh
INT. J. HYDROGEN ENERGY 35, 5448-5453 (2010)

Functions of LiBH4 in the hydrogen sorption reactions of 2LiH-Mg(NH2)2 system
JJ Hu, E. Weidner, M. Hoelzel and M. Fichtner
DALTON TRANSACTIONS 39, 9100-9107 (2010)

Synthesis of amorphous Mg(BH4)2 from MgB2 and H2 at room temperature
C. Pistidda, S. Garroni, F. Dolci, A. Khandelwal, Elisa G. Bardají, P. Nolis, M. Dornheim, R. Gosalawit, T. Jensen, Y. Cerenius, S. Suriñach, M. D. Baró, W. Lohstroh, and M. Fichtner
J. ALLOYS COMPD. 508, 212-215 (2010)

Altered Thermodynamic and Kinetic Properties of MgH2 Infiltrated in Microporous Scaffold
Zh. Zhao-Karger, JJ. Hu, A. Roth, D. Wang, Ch. Kübel, W. Lohstroh and M. Fichtner
CHEM. COMM. 46, 8353-8355 (2010)

Nano-confined Mg-borohydride for hydrogen storage applications investigated by SANS and SAXS
S. Sartori, K. D. Knudsen, Zh. Zhao-Karger, E. G. Bardají, J. Muller, M. Fichtner, B. C. Hauback
JOURNAL OF PHYSICAL CHEMISTRY C 114, 18785-18789 (2010)

Thermodynamic effects in nanoconfined NaAlH4
W. Lohstroh, A. Roth, H. Hahn, and M. Fichtner
CHEM. PHYS. CHEM. 11, 789 (2010)

High Resolution Raman and Neutron Investigation of Mg(BH4)2 in an Extensive Temperature Range
A. Giannasi, D. Colognesi, L. Ulivi, M. Zoppi, A. J. Ramirez-Cuesta, E. G. Bardají, E. Roehm, and M. Fichtner
JOURNAL OF PHYSICAL CHEMISTRY A 114, 2788 (2010)

Carbon-Confined Iron-Lithium Fluoride Nanocomposite as Stable Electrode Material in Lithium Batteries
R. Prakash, A. K. Mishra, A. Roth, Ch. Kübel, T. Scherer, M. Ghafari, H. Hahn, and M. Fichtner
JOURNAL OF MATERIALS CHEMISTRY 20, 1871 (2010)
Back-Cover Article

First-principles modelling of magnesium titanium hydrides
Er S., van Setten M.J., de Wijs G.H. and Brocks G.
JOURNAL OF PHYSICS: CONDENSED MATTER 22, 074208 (2010)

Binding in alkali and alkaline-earth tetrahydroborates: Special position of magnesium tetrahydroborate
Łodziana Z and van Setten M.J.
PHYSICAL REVIEW B 81, 024117 (2010)

Hydrogenography of MgyNi1−yHx gradient thin films: Interplay between the thermodynamics and kinetics of hydrogenation
Gremaud R., Broedersz C.P., Borgschulte A., van Setten M.J., Schreuders H., Slaman M., Dama B., and Griessen R.
ACTA MATERIALIA 85, 658 (2010)
2009
Structural phase transitions of Mg(BH4)2 under pressure
George L., Drozd V., Saxena S.K., Bardaji E.G. and Fichtner M.
JOURNAL OF PHYSICAL CHEMISTRY C 113 (1) 486 (2009)
2008