Printed Electronics Equipment
This page gives an overview of the equipment present with the printed electronics group at the Institute of Nanotechnology.
Printers
Ceradrop L-Series Ink-jet Printer
Model: Ceradrop
Contact person: Felix Neuper
This is an ink-jet printer with many advanced features such as large printing area (305 x 305 mm2), automated printhead switching, jetting analysis, realignment, printhead heating, auto-cleaning, vacuum clamping, etc. It can adapt three printheads which enables to print multiple materials at any discrete resolution with an accuracy of +/- 2.5 µm. The system is built around easily interchangeable printheads, ensuring high process repeatability, high jetting accuracy and broad materials compatibility. The printer has a full software package, such as the exclusive CAD/CAM software for component design and printing job definition with integration of all process parameters. The system is able to deposit a wide range of inks (water based, oil, solvent, UV, biological fluid) dedicated to printed electronics (conductive, dielectric, magnetic, piezoelectric, semi-conductive, photocatalytic, etc.) onto different kinds of substrates such as plastic, paper, glass, ceramics, silicon. The printer includes all the necessary facilities for high-level R&D for a wide range of applications.
Dimatix Material Printer DMP-2831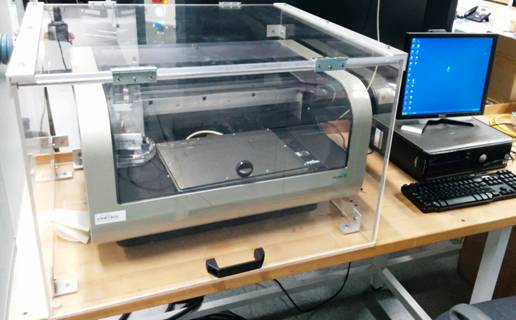 Type: Ink-jet
Contact person: Tessy Baby
The Dimatix DMP-2831 is a small table top ink-jet printer that allows for easy and frequent change in printing cartridge and therefore the fluidic material (ink) to be jetted. Thus it is particularly suitable for R & D purpose and printing of individual functional device. To minimize waste of expensive fluids, each cartridge reservoir has a capacity of only 1.5 ml. Cartridges can easily be replaced to facilitate printing of a different ink. Each cartridge has 16 nozzles linearly spaced at 254 microns with typical drop sizes of 1 and 10 picoliters. The printing area is 8x11 inch or A4 substrate, it utilizes a disposable piezo inkjet cartridge. The temperature of the vacuum plate, which secures the substrate in place, can be adjusted up to 60 °C. The DMP-2831 offers a variety of patterns using a pattern editor program. Additionally, a waveform editor and a drop-watch camera system allows manipulation of the electronic pulses to the piezo jetting device for optimization of the drop characteristics as it is ejected from the nozzle.
Sonoplot Microplotter II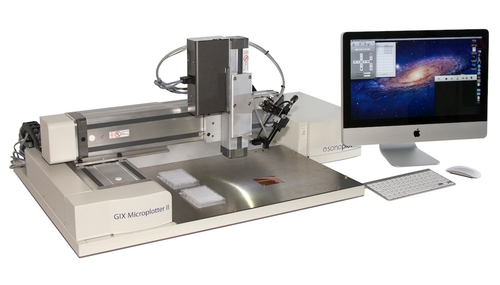 Contact person: Surya Abhishek Singaraju
The Microplotter II is a dispenser unit that uses ultrasound to print lines of a controlled width of about 50 µm through a capillary of varied tip diameters. This instrument is used to print inks which have particles of size greater than 0.5 µm, which cannot be printed using ink-jet printer. A wide range of inks are printable using the microplotter. Depending to the viscosity and surface tension of the ink, a capillary of suitable tip diameter can be used. As the ink is filled into the capillary, the sonoplotter callibrates the resonant frequency of the capillary using its mass density. The microplotter can detect the surface just as the capillary tip touches it. Then, an ultrasonic vibration at the resonant frequency enables the liquid to be dispensed out of the capillary tip. The capillary tip can be moved in different directions to draw and plot lines or shapes.
PVD Units
RF Magnetron Sputter unit
Contact person: Felix Neuper
The unit has two RF magnetrons (2" diameter). Features include sample rotation, substrate heating (up to 800 ˚C), and flexible distance between substrate and target. Reactive sputtering with oxygen or other gases is possible.
Thermal evaporation unit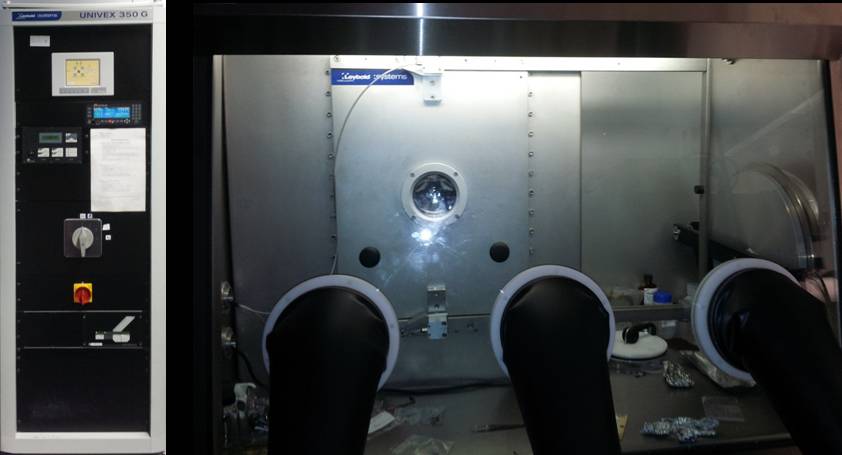 Contact person: Surya Abhishek Singaraju
The thermal evaporation unit (model: UNIVEX 350 G) has four tungsten boats and a quartz rate monitor for each of them; using resistive heating different metals can be evaporated with precise control over the evaporation rate. The main chamber is placed inside a glove box to avoid any environmental exposure to the deposition materials.
Ink Preparation
Dispermat & Centrifuge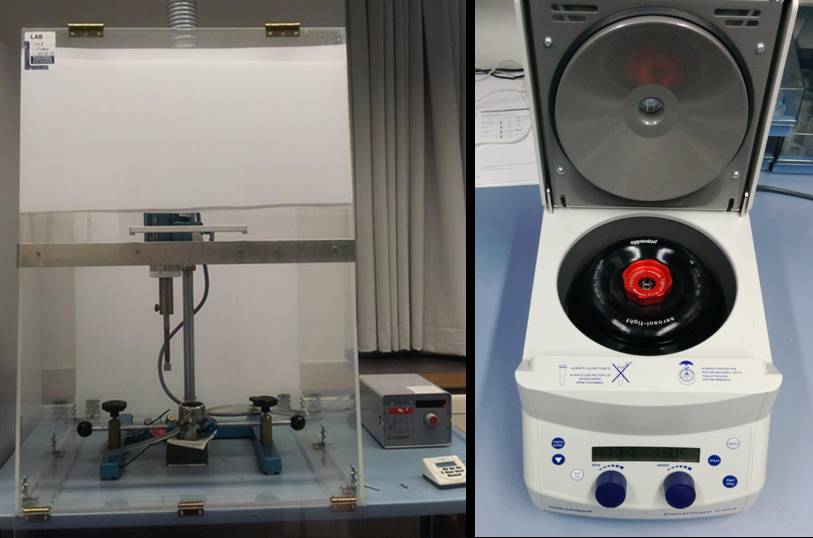 Contact person: Tessy Baby
In order to ensure clogging-free easy jetting of printing fluids/inks, it is essential that the formulated nanoparticulate inks do not have agglomerates larger than few hundred nanometers.
Hence a modified Dispermat dispersion unit is used that offers a uniform dispersion and fine grinding of various materials.The equipment consists of stainless steel housing and a digital speed indication. The speed of rotation can be adjusted between 0 and 20000. It is placed in a separate fume hood for more safety towards toxic solvents. The dissolver is fitted with easy to use container clamping arms. This is widely using for making nanoparticle ink.
This highly advanced 24-place Centrifuge 5424 from Eppendorf is equipped with an adjustable RPM and time. Reaching up to 15000 RPM the unit offers possibilities to separate larger agglomerates from formulated inks.
Morphology
Dektak 6M profilometer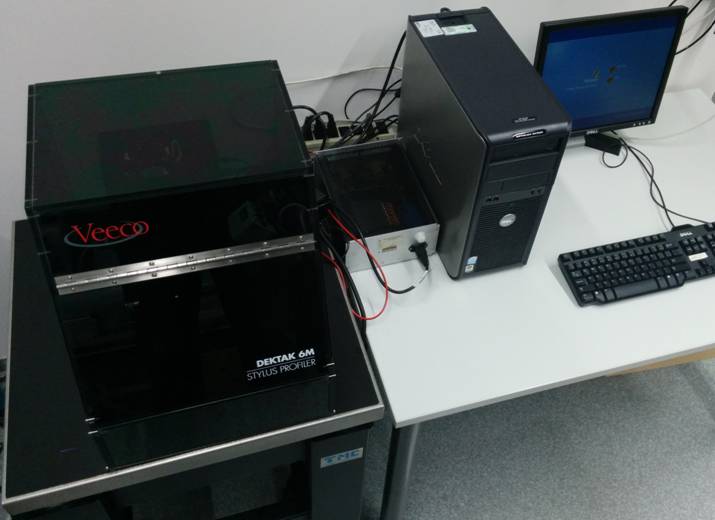 Contact person: Surya Abhishek Singaraju
The Dektak 6M stylus profiler is a film height measurement tool capable of measuring steps below 10 nm. One can use this tool to profile surface topology and measure surface roughness in the nanometer range. The system is currently equipped with a 12.5µm radius high aspect ratio stylus. Maximum detectable height change is 250 µm.
Electrical characterization
Contact person: Gabriel Cadilha Marques
Probe stations
The group owns two Süss Microtec probe station one placed in air and one in inert atmosphere ( inside N2 glove box), therefore, according to need electrical characterization of the printed devices can either be done in ambient or in inert atmosphere. The glove box unit utilizes platform levitation to achieve all kinds of vibration-isolation. The units are of measuring current down to picoamphere (pA) levels and also equipped with stage temperature control between -60 ˚C to 300 ˚C.
Agilent 4156C parameter analyzer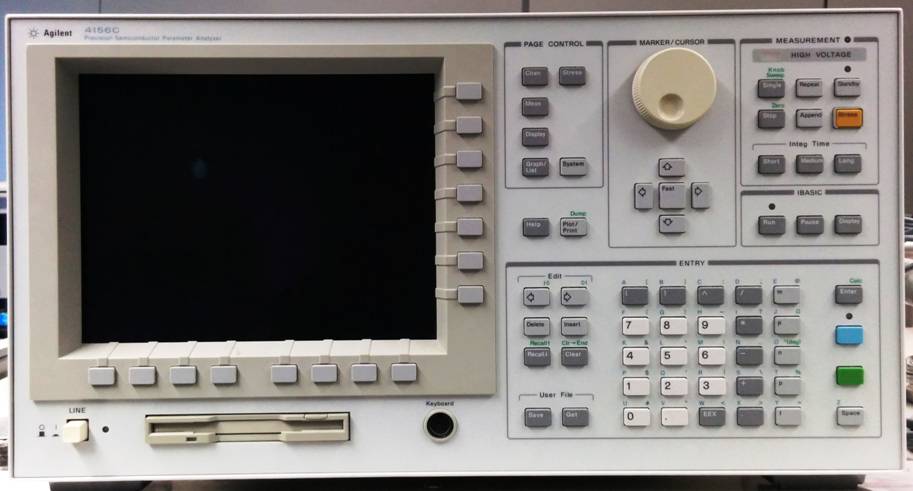 The Agilent 4156C Precision Semiconductor Parameter Analyzer is a highly accurate laboratory bench top solution for advanced device characterization, is usually used for performing comprehensive electrical characterization of semiconductor devices, materials and processes. With its 4 high resolution SMUs (Source Measure Unit) 2xVSU (Voltage Source Unit) and 2xVMU (Voltage Monitor Unit) a big variety of measurements can be performed (e.g. Sheet resistance, I-V, C-V measurements, FET-characterization etc.). The measurement resolution of the device is as accurate as 1fA and 200µV.
Agilent 4294A precision impedance analyzer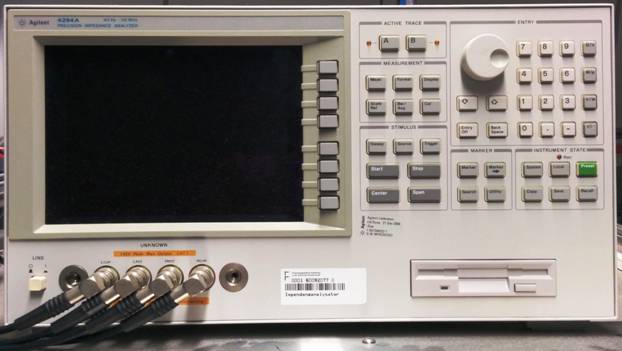 The unit offers an accurate impedance measurement over a wide range of test-frequency range starting from 40 Hz to 110 MHz. For differential capacitance measurements it allows to apply DC bias between 0 V to +/-40 V.
Keithley 4200 SCS equipped with 4225 PMU ultra-fast I-V module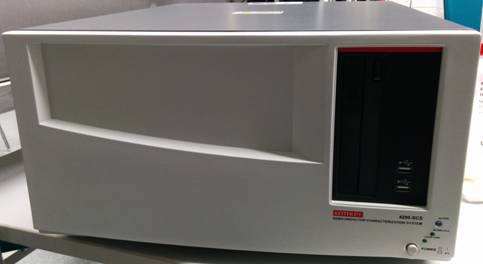 The 4200-SCS unit is a modular, fully integrated parameter analyzer capable of performing electrical characterization of semiconductor devices. The Model 4225-PMU Ultra Fast I-V Module integrates ultra-fast voltage waveform generation and signal observation capabilities into the Model 4200-SCS. Each channel of the Model 4225-PMU combines high speed voltage outputs (with pulse widths ranging from 60 nanoseconds to DC) with simultaneous current and voltage measurements. Therefore, it can measure I and V simultaneously, at the acquisition rates of up to 200 megasamples/second (MS/s).