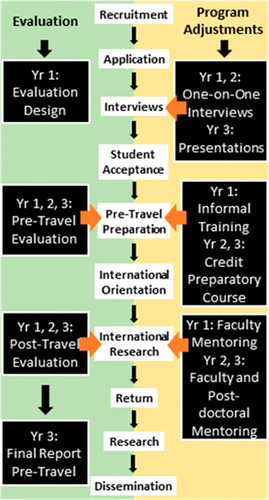 Facilitating an International Research Experience Focused on Applied Nanotechnology and Surface Chemistry for American Undergraduate Students Collaborating with Mentors at a German Educational and Research Institution
Author:

C. Wilson, M. Hirtz, P. A. Levkin, A. L. Sutlief, A. E. Holmes

Source:

J. Chem. Educ. 96 (2019) 2441-2449

Date:

2019

The "International Research Experience for Students (IRES)" at Doane University (DU) located in Crete, Nebraska, exposed undergraduate science, technology, engineering, and mathematics (STEM) students to international research at the Karlsruhe Institute of Technology (KIT) in Germany. The international collaboration team included three undergraduate researchers per year from DU, one faculty member and one postdoctoral fellow from DU, two faculty mentors at KIT, and several graduate, post-doctoral, and technical staff at KIT. Prior to departure to Germany, the students received extensive research training, as well as culture and language preparation from the mentors at DU. While in Germany, the students received an in-depth orientation to Karlsruhe, Germany, Europe, the research setting at KIT, and the international collaborators. The eight week summer projects over three years involved nanolithography, nano- to microsized array fabrication, organic synthesis using click chemistry, and surface modifications for sensing and other biomedical research applications. When the students returned from Germany, they continued to conduct research at DU and train other undergraduate students using the expertise acquired from KIT. The DU research students, including the IRES scholars, learned oral and written communication skills. They presented their KIT and DU research results at weekly seminars and at local and national meetings. An external assessment firm evaluated the program, the students, and mentors on a yearly basis before and after the summer research. This enabled all participants to continuously improve the learning objectives and the program execution including three program adjustments implemented in year 2 or 3. The survey data shows that the IRES program provided an enriching experience for the students in research and international culture and established a successful base of collaboration for mentors.