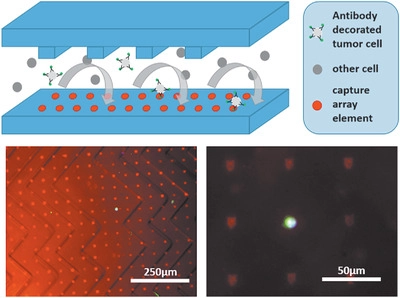 Evaluation of Microfluidic Ceiling Designs for the Capture of Circulating Tumor Cells on a Microarray Platform
Author:

H.‐Y. Liu, C. Koch, A. Haller, S. A. Joosse, R. Kumar, M. J. Vellekoop, L. J. Horst, L. Keller, A. Babayan, A. V. Failla, J. Jensen, S. Peine, F. Keplinger, H. Fuchs, K. Pantel, M. Hirtz

Source:

Adv. Biosys. 4 (2020) 1900162

Date:

2020

The capture of circulating tumor cells (CTCs) is still a challenging application for microfluidic chips, as these cells are rare and hidden in a huge background of blood cells. Here, different microfluidic ceiling designs in regard to their capture efficiency for CTCs in model experiments and more realistic conditions of blood samples spiked with a clinically relevant amount of tumor cells are evaluated. An optimized design for the capture platform that allows highly efficient recovery of CTCs from size‐based pre‐enriched samples under realistic conditions is obtained. Furthermore, the viability of captured tumor cells as well as single cell recovery for downstream genomic analysis is demonstrated. Additionally, the authors' findings underline the importance of evaluating rational design rules for microfluidic devices based on theoretical models by application‐specific experiments.