The concept of tunable properties encompasses composite nanostructures whose physical properties can be controlled both reversibly and dynamically by the application of an external electrical stimulus. This is readily achieved using nanomaterials and nanostructures owing to their large ratio of interface-to-volume.
The stimulus can be provided by various means, e.g. dielectric, ferroelectric, and electrolyte gating which induces an electric charge at the interface of the functional material leading to charge carrier doping (electric field effect) and thus to a reversibly tuned property change. However going beyond that concept, reversible ion intercalation (reversible electrochemistry), which includes ion transfer across the interface can also effectively alter the materials property. In between these two mechanism, reversible surface chemistry (redox pseudocapacitance), displays an effective tools to obtain sizeable surface charges. The different tuning approaches employed in the Tunables group are illustrated schematically in the figure below.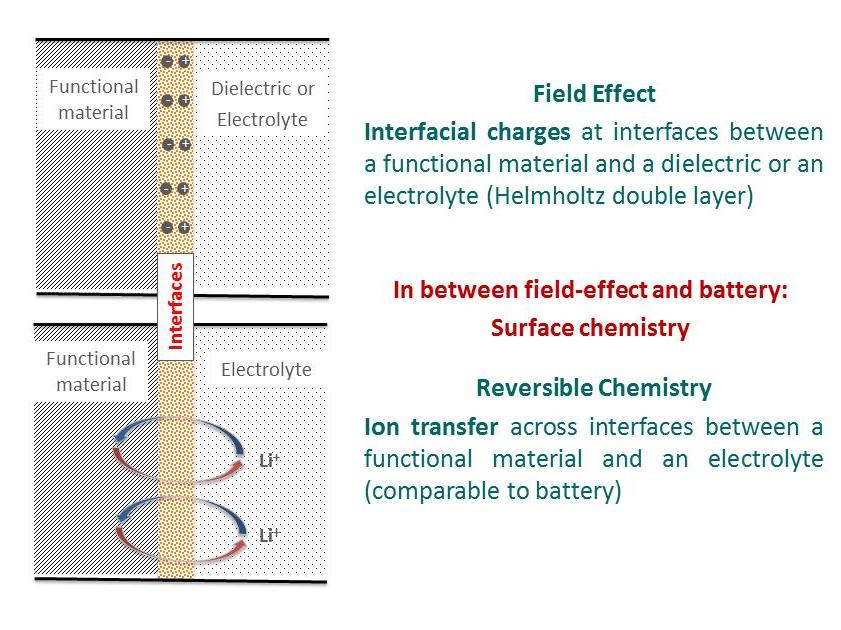 Group members (Left to right: Robert Kruk, Horst Hahn, Ruby Singh, Ben Breitung, Xinglong Ye)
The research focus of the Tunables group addresses the control of magnetic properties in nanomaterials. In the following some recent examples of reversible magnetic tuning employing the above introduced approaches are presented. Especially the large flexibility of the liquid gating approach allows for the use of a multitude of morphologies ranging from epitaxial thin films, over nanoporous thin films to nanopowders.