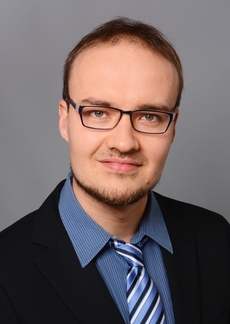 Dr. Frank Biedermann
Karlsruhe Institute of Technology (KIT)
Institute of Nanotechnology
Hermann-von-Helmholtz-Platz 1
76344 Eggenstein-Leopoldshafen, Germany
Analyte Detection with High Affinity Chemosensors (Emmy-Noether group)
Contents

The creation of artificial receptors remains an open challenge in supramolecular chemistry. In particular, the detection of small biomolecules in aqueous or complex biological media by supramolecular chemosensors proved difficult.[1] We have developed a remarkably facile and versatile biomimetic strategy for the design of high-affinity artificial receptors by exploiting a combination of specific analyte-host interactions and the powerful, non-classical hydrophobic effect as driving forces for binding.[2] Current developments include the monitoring of dynamic processes, e.g. of enzymatic reactions, and the extension of the sensors to applications in living cells.

[1] S. Sinn, F. Biedermann, Chemical Sensors Based on Cucurbit[n]uril Macrocycles. Isr. J. Chem. 2018, 58, 357-412.
[2] F. Biedermann, H.-J. Schneider, Experimental Binding Energies in Supramolecular Complexes. Chem. Rev. 2016, 116, 5216-5300.
For up-to-date information, please visit our group website: http://biedermann-labs.com/index.php
Photophysical characterisation of supramolecular and self-assembled systems (Circular Dichroism spectroscopy with FDCD capabilities, Absorbance & Emission spectroscopy, Stopped Flow)
Calorimetric binding studies (Isothermal Titration Calorimetry, ITC)
Synthesis of molecular hosts and dyes (automated flash chromatography & photoreactor)
M.Sc. Amrutha Prabodh (PhD candidate)
MSc. Laura Grimm (PhD candidate)
Dr. Stephan Sinn (Postdoctorial researcher)
Philipp Avon (Master student)
Joana Krämer (student assistant)
More details about our group members and alumni can be found at: http://biedermann-labs.com/index.php
PhD position available. We are looking for a Chemist (m/f) who is interested in supramolecular chemistry and assay development to join our team as a PhD candidate. We offer an in interdisciplinary projects in the area of design and synthesis of novel sensors and their application to biomolecule and drug sensing and reaction monitoring of biological processes in real time. Close supervision by an experienced PostDoc and group leader will be provided. State-of-the-art equipment is available. The candidate should bring the desire to learn and try out new things; experience in organic synthesis and spectroscopy would be helpful. For applying to become a PhD candidate in our group, please send your CV and a motivation letter (English or German). If you are interested in a Master project, feel free to contact us.
For a full publication list, see google scholar profile.
Education
12/2014 – 08/2016:

Postdoc, Karlsruhe Institute for Technology (KIT), Institute for Nanotechnology (INT), with Prof. Dr. L. De Cola

12/2013 – 11/2014: Postdoc, Institut de Science et d'Ingénierie Supramoléculaires, Strasbourg, with Prof. Dr. L. De Cola

10/2012 – 11/2013: Postdoc, Jacobs University Bremen, with Prof. Dr. W. M. Nau

10/2008 – 10/2012: PhD in Chemistry, University of Cambridge, UK, with Dr. O. A. Scherman

10/2007 – 06/2008 Part III course in Chemistry, University of Cambridge, UK

10/2006 – 06/2007 Part-time studies Physics (1. and 2. semester), TU Kaiserslautern

10/2004 – 08/2007 B. Sc., Universität Leipzig
Awards
2017 YIN Award, KIT, Germany
2016 Emmy Noether research grant, Germany
2008 "Top five" in Part III Exams in Chemistry, Cambridge, UK
2007 Ernst-Beckmann-Price, Universität Leipzig
2005 Arthur-Hantzsch-Price, Universität Leipzig
2004 International Chemistry Olympiads, silver medal , Kiel, Germany
Scholarships
11/2013 Deutscher Akademischer Austauschdienst (DAAD), Vortragsstipendium
2012 – 2013 Deutscher Akademischer Austauschdienst (DAAD), Rückkehrstipendium
2008 – 2011 Deutscher Akademischer Austauschdienst (DAAD), Promotionsstipendium
2008 – 2011 Cambridge European Trust
2004 – 2008 Studienstiftung des Deutschen Volkes
Patents
Highly selective artificial neurotransmitter receptors (2016)
Chiralitätsdetektion mit achiralen Wirt-Gast Sensoren (2014)
Cucurbituril-based hydrogels (2013)
Teaching
Lecture in Supramolecular Chemistry (Master course level)
Memberships
DAAD Doktoranden-Auswahl-Kommission
Young Investigator Network (YIN)
Gesellschaft Deutscher Chemiker (GDCh)
Förderverein Chemie-Olympiade e.V. (FCHO)